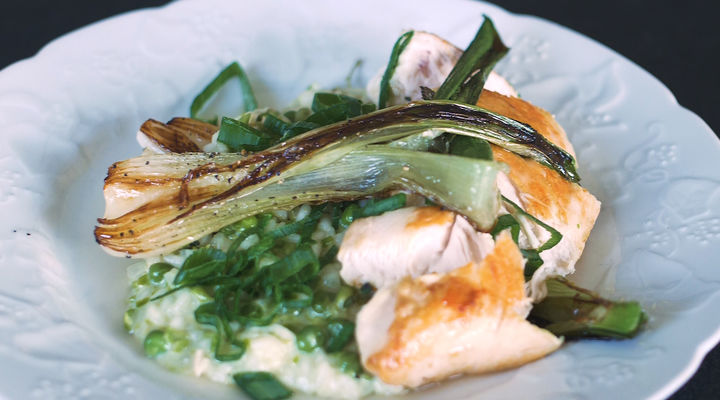 RECIPE OVERVIEW
If you love goat's cheese then this is the recipe for you.
400

g

Arborio Risotto Rice

2

-

Chicken Fillets

with skin removed

2

-

Onions

halved lengthways

70

g

Parmesan Cheese

grated, plus extra shavings to serve

2

-

Shallots

finely diced

2

sprigs

SuperValu Fresh Thyme

100

g

SuperValu Goats Cheese

4

tbsp

SuperValu Olive Oil

2

sprigs

SuperValu Oregano

700

medium

Vegetable Stock

warm
Method
1. In a saucepan, melt half the butter with half of the shallots and thyme. When the butter is foaming, add the peas and cook for 2 minutes.
2. Add the cream and a few spoons of the vegetable stock. Bring to the boil and using a handheld blender, pulse until roughly mixed. Remove from the heat and keep aside until needed.
3. Next, heat the oil in a frying pan over medium heat. Add the onion and cook for 2 minutes. Remove from the pan, then add the chicken fillet.
4. Pan fry on medium heat for 5 to 8 minutes each side until cooked through. Keep aside until needed.
5. In the meantime, place a wide, heavy-based saucepan over low heat and slowly melt the rest of the butter.
6. Add the remainder of the shallots and seasoning. Cook very gently for 30 seconds or until the shallot is softened. Add the rice and mix well to ensure it does not stick to the bottom of the pan. Cook without any liquid for 1 minute while stirring constantly.
7. Next, add the white wine and continue to stir. The wine will evaporate quite quickly, so you really need to stand over this dish as you cook it.
8. Increase the heat slightly and start adding the stock little by little, never adding more than a ladleful until the previous one has evaporated. It is vital not to rush this process. Continue in this way for 15 to 18 minutes or until you have added all of the liquid and the rice is plump and tender.
9. Fold in the cheeses, lemon zest and the peas mixture. Check the seasoning, and serve immediately, with the onion and the chicken fillet for any meat-eaters!
10. Sprinkle extra parmesan on top and serve immediately.
Be the first to add a review.