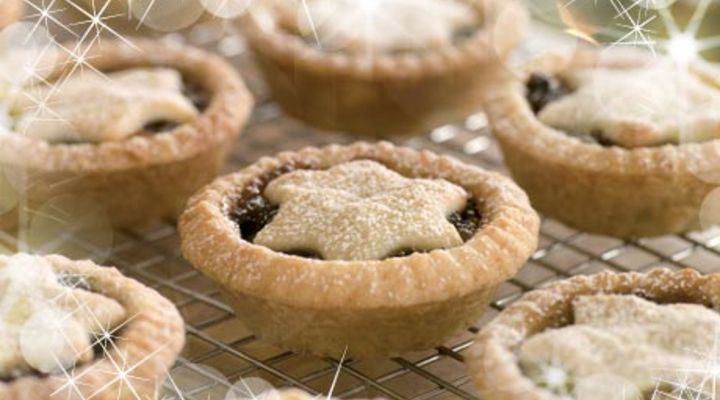 RECIPE OVERVIEW
Christmas just wouldn't be Christmas without mince pies. I'll show you how to make your own mincemeat filling, but if you prefer you can always use a jar of ready-made mincemeat.
250

g

SuperValu Brown Sugar

2

large

SuperValu Cooking Apple

grated

1

-

SuperValu Lemon

zest and juice

1

-

SuperValu Orange

zest and juice
Additional Requirements
1

-

Fresh Egg

lightly beaten, to glaze
Method
Sweet Pastry
Cream butter and sugar until light and fluffy. Add in the egg and flour and bring the mixture together.
Wrap in cling film and allow to rest.
Mincemeat
Place mincemeat ingredients into a large mixing bowl and mix well. Cover with a dry cloth and leave overnight to let flavours mature.
The next day preheat the oven to 120°C/240°F/Gas mark ½
Place the fruit mixture into a deep baking tray and cover tightly with tinfoil and place in the oven. Cook in the oven for approximately 2 hours, stirring occasionally until all of the suet has dissolved. Transfer to sterile jars and use as required.
To make your Mince Pies
Preheat the oven to180°C/350°F/Gas Mark 4.
Grease and line a 12-cup bun tray. On a lightly floured work surface, roll out pastry into a large piece. Using a round biscuit cutter cut 12 pastry discs and use these to line the bun tray.
Using a star-shaped biscuit cutter cut out 12 pastry stars for the top of the pies.
¾ fill pastry-lined tins with mincemeat and place pastry star on top. Brush lightly with a beaten egg and bake in the oven for 20-25 minutes or until golden brown. Serve immediately.