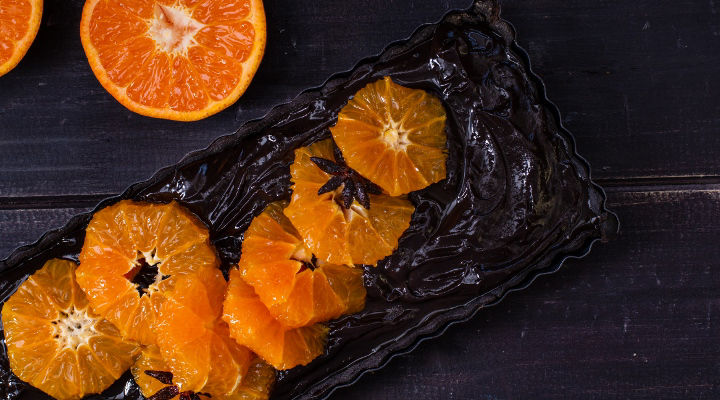 RECIPE OVERVIEW
A rich, dark chocolate tart topped with spiced ClemenGold.
Method
Chocolate Pastry
Preheat the oven to 190˚C.
Sift the flour, cocoa powder and icing sugar into the bowl of an electric mixer, fitted with the paddle attachment.
Cut the cold butter into even-sized blocks and add to the flour mixture. Combine the butter into the flour mixture until it resembles bread crumbs.
Add the egg yolks and continue to beat until the mixture pulls together into stiff dough.
Divide the dough into two even-sized balls. Flatten and wrap in cling film.
Chill the pastry in the refrigerator for 1 hour.
On a floured surface, roll out the pastry evenly and thinly to fit a baking pan of about 23 cm in diameter or 34 cm long.
Gently ease the dough into the sides of the pan and use a knife to remove the overhanging pastry.
Press the pastry into the edges and up the sides of the pan.
Prick the surface of the pastry with a fork.
Rest the pastry in the refrigerator for a further 30 minutes.
Line the inside of the pastry with baking paper and weigh down with baking beans.
Bake in an oven preheated to 190˚C for 15 minutes.
Remove the baking beans and bake for about 5 minutes until the pastry is crisp and baked through.
Chocolate Pastry Cream
Place the milk in a medium-sized saucepan and heat to just boiling.
In a large bowl, place the cocoa powder, cake flour, corn flour, sugar, eggs and egg yolks and whisk well to form a paste.
Pour the hot milk over the egg mixture and whisk well to mix into custard.
Strain the custard back into the saucepan and whisk continuously on medium heat until thickened.
Remove the custard to a bowl.
Cover the bowl with cling film to avoid the custard forming a skin and leave to cool.
Spiced ClemenGold
Place the water and the sugar into a small saucepan and bring to the boil for 10 minutes.
Remove from the heat and add the cardamom pods, star anise and cinnamon stick to the hot syrup.
Set aside for 15 minutes to allow the flavours of the spices to steep through the syrup.
Remove the ClemenGold rind with a sharp knife and cut the fruit into even slices.
Add the ClemenGold slices to the spiced syrup and macerate for 1 hour before using.
To Assemble
Spread the chocolate pastry cream into the baked chocolate pastry base.
Top with the macerated ClemenGold slices.
Be the first to add a review.