We believe in keeping our communities safe.
That's why we'll continue doing all we can to help our customers and in particular the elderly and most vulnerable.
Our priority shopping times are from 10am–12pm.
Protecting our staff and customers is our number one priority, we will continue to offer the following measures in our stores:
Sanitiser stations
Contactless payments of up to €50
Plexiglass to protect staff and customers
Wearing face masks to protect each other
Limiting numbers shopping instore at any one time
Contactless Online delivery
Contactless Click and Collect service
Rest assured, we will always do our best to ensure that we get through this together.
Because at SuperValu, we believe in keeping our communities safe.


Staying Open
Our 223 SuperValu stores are independently owned, and community based and will remain open every day. Our opening times may vary to suit the needs of our local communities so please check with your local store before you make your journey.
All of our stores are receiving supplies daily direct from our dedicated delivery drivers and warehouses. Our suppliers and teams are doing everything possible to get as many products onto all our shelves as they can. So we ask you to please be considerate in the way you shop and buy only what you need, it helps everyone.
We are also very mindful of the elderly and vulnerable people in the community. Our stores are prioritising the elderly all day long and our staff are committed to ensuring these people are looked after when they visit. This is very much part of how we operate on a daily basis in the community. We have also put in place priority shopping hours for the Elderly and most vulnerable from 10am – 12pm.
Many of our stores have a tailored approach in place according to the specific needs of the local community they serve in, including dedicated elderly hours and checkouts.


Protecting our Staff
Protecting our staff and customers is our number one priority. We have a range of preventative measures in place across our SuperValu Stores to stem the spread of COVID 19. We will continue to have upweighted sanitisation and cleaning protocols in place, with stores cleaning trolley and basket handles as preventative measures. Please observe any directions given in-store over the tannoy or as directed by signage or staff.
We ask for your support in implementing these necessary measures:
To protect each other, it is mandatory to wear a face covering while shopping in our stores.
Sanitise your hands when entering.
At busy times we will need to limit the number of people entering the store.
Buy what you need, we are re-stocking everyday.
Use contactless or card payments where possible – Contactless threshold has been raised to €50.
If you need any help just ask.


Help us to protect you & our staff
Social Distancing:
To help with social distancing while you shop, please remember to keep 2 meters apart at all times.
Use the size of a trolley as a distance guide between each other
Follow the floor marking distance guides on the floors
Plexiglass has been installed at all of our checkouts as an added protective measure for our cashiers.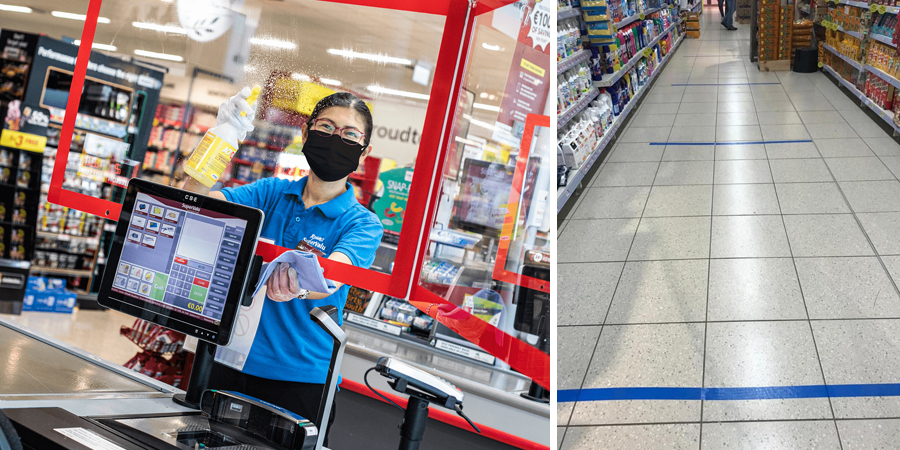 Self-Isolating
If you should be self-isolating, we ask that you respect our teams and customers by not visiting our stores. Please use our online shopping service or ask a family member or friend to pick up the essential items you need.


Online Shopping
Slot Availability
Our Online Shopping service is currently very busy, but we are working hard to open slots while looking after those most in need within our communities. Please Register or Log in to view the latest slots available for your local SuperValu store. We are currently experiencing high levels of demand so if you cannot find a preferred slot, switch to our Click & Collect service or to another store. Alternatively, please check back again soon.
Further info if a link can be added: https://shop.supervalu.ie/shopping/online-shopping-made-easy


Contactless Deliveries & Collections:
During the COVID-19 Pandemic, SuperValu is operating contactless deliveries and collections. For your safety, we have introduced social distancing measures, additional sanitising guidance and currently use plastic liners to allow your shop to be taken from our crates easily.


Deliveries: 
Our drivers will deliver your shopping to outside your home but won't enter the premises. If you are elderly, less-abled or injured, please add a note to your online order that you require assistance and we will bring your shopping indoors for you while observing social distancing guidelines.


Collections: 
On arrival in the car park, alert a member of staff or ring the store number and a member of the Online Shopping team will bring your shopping to your open boot as you wait in your car. We'll arrange the shopping in tied off liners (bags), with all crates and equipment sanitised throughout the preparation.
 
We're Hiring!

If you'd like to join our teams in store or on the road, click below to see our SuperValu opportunities near you.
Apply today: www.https://supervalu.ie/careers