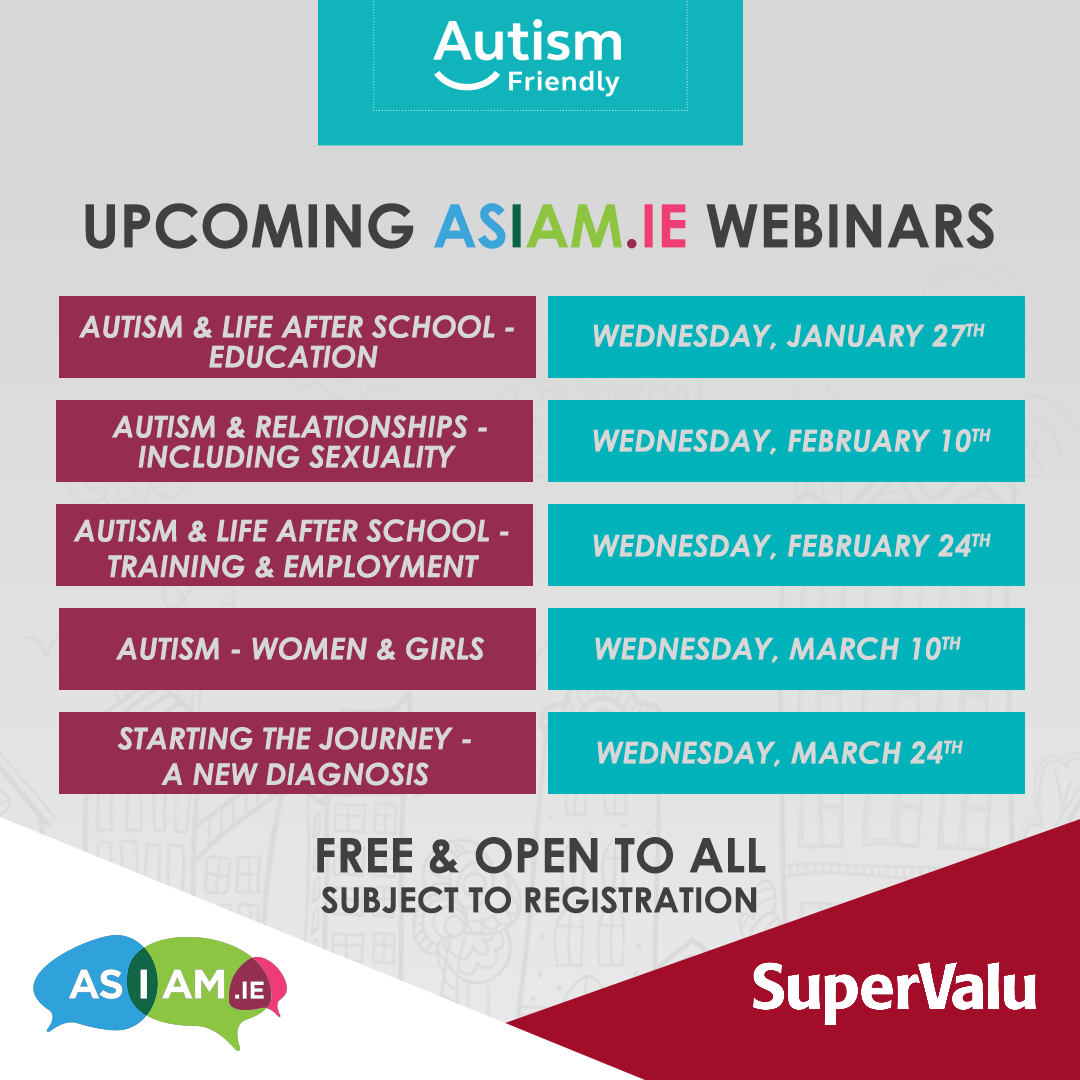 SuperValu & AsIAm Announce New 2021 Webinar Series to Support Families This Year
AsIAm and SuperValu Webinar Series continues in 2021, kicking off with education and life after school for the autism community
AsIAm, supported by SuperValu are delighted to announce a new series of webinars that will continue to bring informative topics and valuable advice to the autism community. The series kicks off on Wednesday 27th January at 7pm with 'Autism & Life After School – Education'. Fiona Early, Autism Friendly University Coordinator at DCU and Billy Redmond an Educational Facilitator, School Principal, Guidance Counsellor and HEC teacher will give advice on factors to consider when choosing a college, preparing for college, the DARE scheme, college-life and autism-friendly universities. They will be able to provide participants with invaluable knowledge on navigating the third level education landscape through an autistic lens. To register for the first seminar in the series 'Autism & Life After School – Education' click here:
https://us02web.zoom.us/webinar/register/WN_YonZSHyHTmeCTws_BkkPMA
The 2020 series, included 15 seminars and reached over 8,000 families across the country. AsIAm with the support of SuperValu are committed to continuing to provide free support to communities around Ireland and to make these seminars accessible to all. Feedback from 2020 conversations was resoundingly positive with viewers commenting: "This is great to hear that AsIAm are going to be putting out support for adults on the spectrum. I hope to see support for adults in future, and not just in getting a diagnosis but also getting actual support in place once we have the diagnosis." Many social media users mentioned being grateful for the availability of the recorded webinar to access after the event date, as will be the case for all of this year's sessions. As always, topics of the seminars are driven by the community and delivered by autism experts focusing on the changes and challenges that they face.
The second of 2021's online seminars will follow on Wednesday 10th February at 7pm discussing 'Autism & Relationships – Including Sexuality.' This session will explore the positives and challenges in romantic relationships, giving examples and practical skills whilst advising on how to know one's self and how to recognise a healthy or toxic relationship. The first quarter of the year will see three further seminars take place including; 'Autism & Life After School – Training & Employment' on Wednesday February 24th, 'Autism - Women & Girls' on Wednesday March 10th and 'Starting the Journey – A New Diagnosis' on Wednesday March 24th. The entire series will be free and open to all subject to registration.
Commenting on the upcoming webinar Adam Harris, CEO of AsIAm "AsIAm is thrilled to continue to deliver Community Support Seminars to families across Ireland with the kind support of SuperValu. With the changing nature of our environments over the past year it is vital to provide additional support to our community. As all seminars are available live online and can be viewed afterwards, members from across Ireland have the opportunity to gain knowledge and advice from trained experts."
Ian Allen, Managing Director of SuperValu said, "We are delighted to once again sponsor AsIAm in their delivery of the community support seminars  The series of webinars cover a broad range of topics which we hope will be of value to the autism community and beyond.  Now more than ever we need to reinforce our support and dedication to working with Ireland's autism community and raise awareness amongst our customers and staff across the country."
SuperValu is committed to raising understanding and awareness of autism among its customers and staff. With over 50,000 families in Ireland living with autism, those affected face barriers to inclusion because of the attitudes of people who may not have first-hand experience of autism.
This programme is supported by SuperValu Ireland.