SuperValu Returns as the Top Performing Irish Supermarket at the 2019 Great Taste Awards
SuperValu celebrates with 64 accolades at the Awards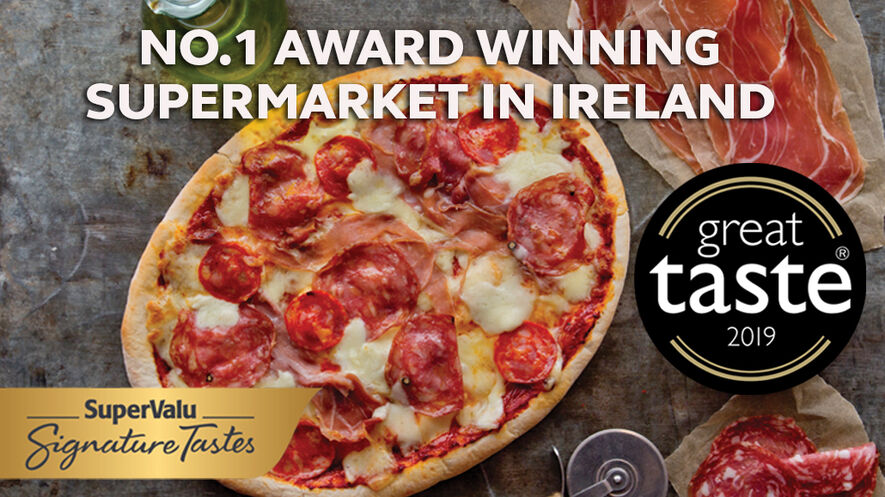 Friday 2nd August 2019:  Today,SuperValu is delighted to announce a remarkable 64 award wins at the 2019 Great Taste Awards making them, once again, the top performing Irish supermarket at the world's largest and most trusted food and drink awards. SuperValu's wins include 42 products from the Signature Taste Range solidifying its position as the No. 1 Premium Range in an Irish Supermarket. 2019 has proved another impressive year for SuperValu, with over 250 awards received in the last five years.
This year, SuperValu's Signature Tastes Smoked Rack of Bacon was awarded three stars, making it one of the highest ranked products from an Irish retailer. The high-quality pork is sourced from Irish Hampshire pigs reared by Luke Bogue in Cavan and the bacon is expertly hand trimmed by butchers at Oliver Carty, and gently smoked over beech and applewood.
The Signature Tastes Irish Yogurts had great success this year winning 1 star each. Irish Yogurts Clonakilty is a family run business based in the heart of West Cork and celebrates 25 years in business this year.The award-winning range includes; Signature Tastes Yogurt Champagne & Rhubarb, a delicious and creamy yogurt made with Champagne Rhubarb, Signature Tastes Sicilian Lemon Yogurt, a thick and creamy Sicilian Zesty lemon yogurt with a fruity tang, and Signature Tastes Valencia Orange Yogurt, made with Valencia Orange which combines the very best of flavors.
SuperValu's Signature Tastes Pink Berry & Coconut Crisp Granola proved to be a winner once again this year.  The luxurious, Irish, handmade granola is baked with honey using Irish Oats and blended with fragrant raspberries, goji berries, topped with crunchy coconut flakes.
Other winners at the event included SuperValu Crème Fraiche, Signature Tastes Three Fruit Marmalade, SuperValu Gold Blend Tea, SuperValu Gluten Free Porridge Oats, SuperValu Plain Scones, SuperValu Sean Brown's Soda Bread, SuperValu Raspberry & Cream Yule Log, SuperValu Spicy Sweet Potato Veg Crush and SuperValu Irish Hampshire Smoked Roasting Bacon Joint with Spiced Brown Sugar Glaze.
The Great Taste Awards, organised by the Guild of Fine Food, is the acknowledged benchmark for fine food and drink.  As the world's largest blind-tasted food awards, it is highly regarded as the 'Oscar's' of the food world so with 64 award wins in 2019 alone this is an impressive achievement for SuperValu.
Martin Kelleher, Managing Director, SuperValu said, "2019 is another great year for SuperValu at the Great Taste Awards and we are delighted that SuperValu has come out as the Top Performing Irish Supermarket at this year's awards once again. SuperValu works with over 1,800 Irish suppliers and we are proud that so many of our products and local producers have received the recognition they deserve at these prestigious awards. These 64 awards are a real endorsement of the quality and value of our range.'' 
Click here to shop the winners.