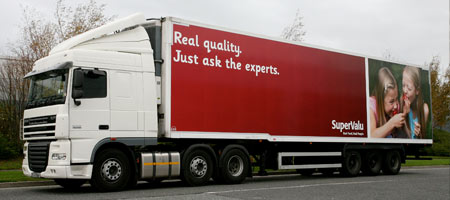 Our modern fleet of trailers and expert drivers deliver to every SuperValu stores around the country
Chill products are handled by two dedicated distribution centres - in Cork and Dublin. All Chilled goods are received daily from our suppliers and dispatched within 24hrs. Ambient (or room temperature) products and Frozen products are also handled in dedicated facilities in Cork, Dublin and Kildare. There are over 1300 personnel employed across the distribution network in Ireland, all of whom are trained in Food Safety & Quality.
All distribution centres are approved to the ISO 22000:2005 Food Safety Standard and the ISO 9001:2008 Quality Management System Standard. All sites also retain the Q Mark as issued by Excellence Ireland Quality Association (EIQA) and hold an Organic Certificate issued by Organic Trust Ltd which permits the distribution and supply of organic products.
Our products are distributed using a fleet of more than 500 trailers that are temperature controlled (chill and frozen). The temperature is continuously monitored electronically to ensure that the safety, freshness and quality of products is maintained at all times.