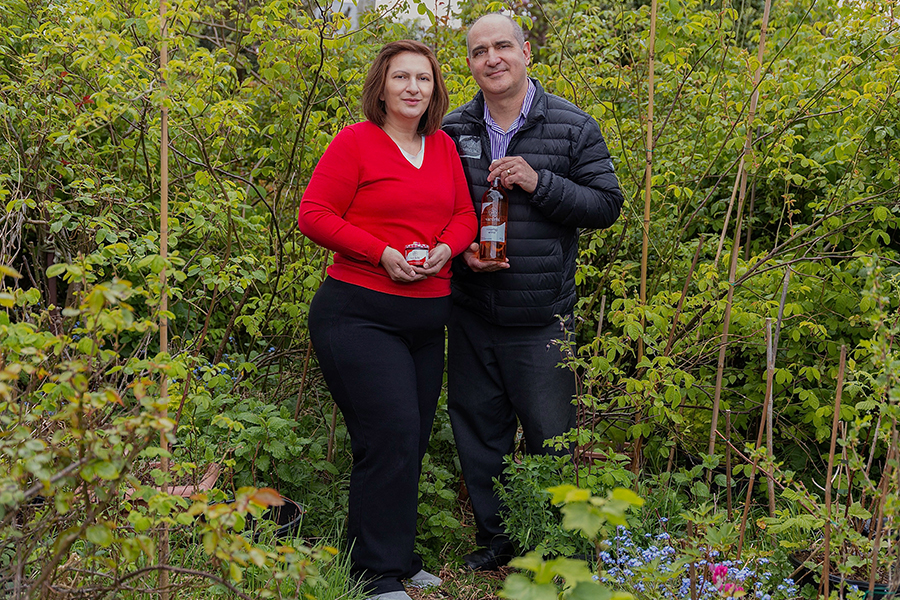 I am from Cuba and my wife Eliso is from Georgia, living in Ireland since 1994, we have three girls Ana, Rosy and Cathy, and started gardening as a hobby 23 years ago when Eliso planted our first rose. In 2010 Eliso made her first rose petal jam and in 2017 I made our first rose petal wine, and after tasting our products with family and friends we decided to start our own business,
Our garden was growing every year and now we have more than 500 rose plants, fruit, herbs and other flowers. We are well prepared for this business our background is culinary skills level 5, Management of food hygiene certificate, HACCP certificate, Higher diploma in computer science, Data analytics and software development, Quality management specialist, Research and development, Mechanical engineer, Design engineer and Technical writer.
After making a very intensive research and development of our products we started the production of our unique innovative wine and Murabba (fruit preserves).
All our products are first to market in Ireland, having innovative flavours and colours, artisan made in small batches using ancient recipes. Our Rosehip wine is dry with nice aroma and flavour, the rosehip jam is very tasty and versatile with 23% of vitamin C.
We use no pesticides or chemicals in our garden. Since 2019 we are renting one acre of land in Banogue, Co. Limerick were we have a capacity to plant 1000 roses.
We started trading on February 2020, and currently selling our products online through social media and in the Urban Co-Op in Limerick.
We are introducing new crop lines into the Irish agricultural sector.