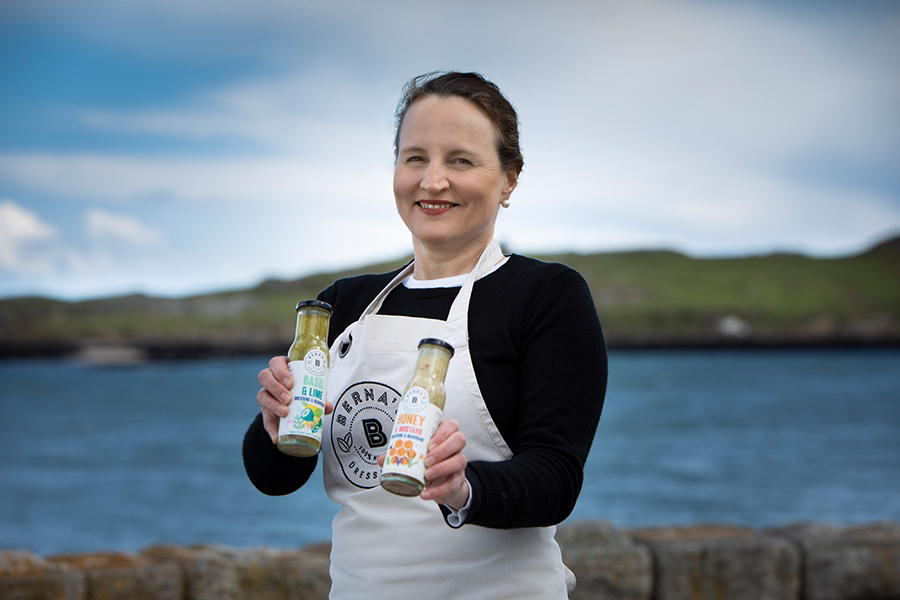 We are an Irish family producing natural and quality salad dressings. We hand blend fresh ingredients together in small batches. Resulting in delicious dressings for everyday salads and cooking too! Berna's Dressings offers a no-fuss and honest alternative to other mass-produced dressings. Berna currently has 3 dynamic combinations; Basil & Lime, Honey & Mustard and Chilli & Lime, each creating their own unique vibrant flavours.
For 18 years, Berna and her husband David ran a much loved delicatessen called Thyme Out in Dalkey, Co. Dublin. Where they began selling Berna's Dressings over countless salads and sandwiches. Customers loved them so much, they decided to bottle them for sale!
Since selling the delicatessen in 2019, we have rebranded our dressings as 'Berna's Dressings'. It gives them great pleasure to be able to continue producing Berna's famous dressings, and to a wider range of customers!
In 2020, their son Oscar returned home from New York due to Covid and joined the family business full time, helping with sales and digital marketing. Hopefully the mix of a youth and experience will make for a successful 2021.
Over the years, at food fairs in particular, we have had may customers request to be in their local SuperValu! So we felt the Food Academy was the next logical step.
So far the Food Academy has been a most worthwhile journey for us. It is important to look for learnings and perspectives outside of your business. So the opportunity to receive great support and advice in a structured environment is amazing. We are very lucky with the mentors, guest speakers and the rare opportunity to be put in front of Supervalu buyers and managers. The resources SuperValu has to understand their customers' needs is incredible and exciting for us. The fact they want to support the ever increasing Irish food business is a breath of fresh air. We are revelling in this fantastic experience to learn how the supermarket route to market works.
We are currently all family in house, however we do help create hours for workers in both Gs Jam and Filligans (Both Origin Green). We also use Irish companies for printing and other merchandise like aprons and tote bags (100% recycled material). Our packaging is 100 percent recyclable.