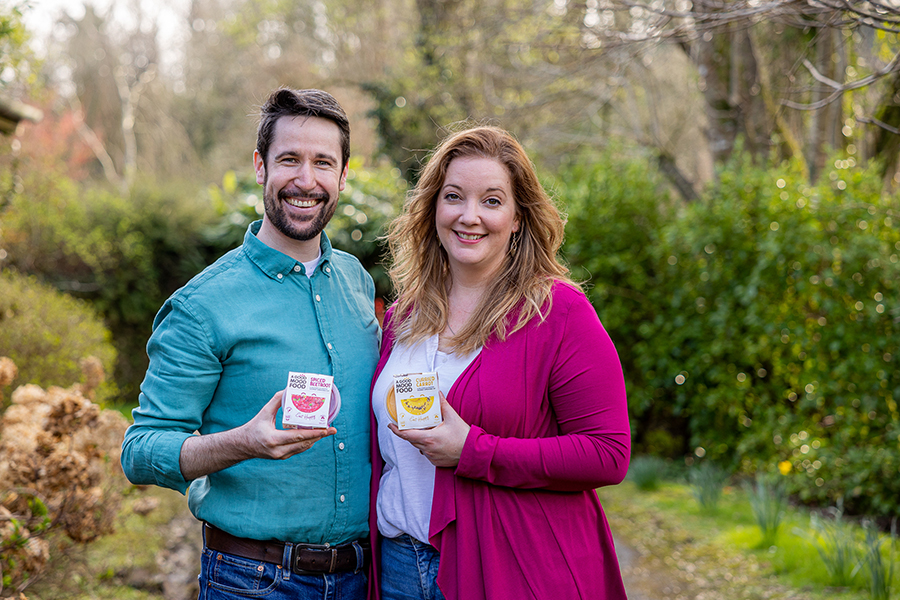 Celeste and Dave began A Good Mood Food during the 2020 lockdowns. She came from America to work as a chef and he was from Cork and specialized in IT, but both were out of work. As a married couple isolating together they kept their mood up by day dreaming and snacking. They realized most of the lovely convenient foods weren't lovely on their waistlines. Celeste was looking for indulgent but healthy snack options like those she had in California or Melbourne, made simply with real ingredients, but couldn't seem to find ones that tasted really good.
Celeste began creating her own delicious and nutrition rich snacks at home, with really fresh ingredients.They applied to the Food Academy and were delighted when they were offered a spot. This filled their days with valuable zoom meetings and information that was essential to bringing their snacks to the public.Through the use of the Incubator Kitchens in Carrigaline they could produce snacks for customers like the ones Celeste was making at home.
They always knew they wanted to use the best quality local ingredients and keep their packaging recyclable, but so much was new to them. The training and mentorship offered by the Food Academy was the leg up they needed to jumpstart their dreams and climb out of 2020.
So in spring of 2021, with a place on SuperValu's shelf, they launched a line of yogurt based dips that work just as well as spreads. They are perfect if you love snacking or whipping up a quick meal packed with flavor. They give you fast, fun options for when you are heading for a day at the beach or for having friends over for food. Each flavor is crafted with roasted vegetables, specially selected spices and locally crafted Greek style yogurt.They have a richness and a unique, velvety texture which are unlike hummus dip or other spreads. With vibrant flavors and bold colors you can't help but be happy when you eat them.
They hope A Good Mood Food will expand their line of offerings and become a brand recognized for great tasting foods that are effortless and made with natural and nutrient rich local produce. As they grow they hope to create more jobs for more food lovers, like themselves.