Nally's Trim Named 2018 SuperValu Store of the Year
Nally's SuperValu in Trim has been named SuperValu Store of the Year for 2018. The Meath store also won SuperValu's Medium-Sized Store of the Year award.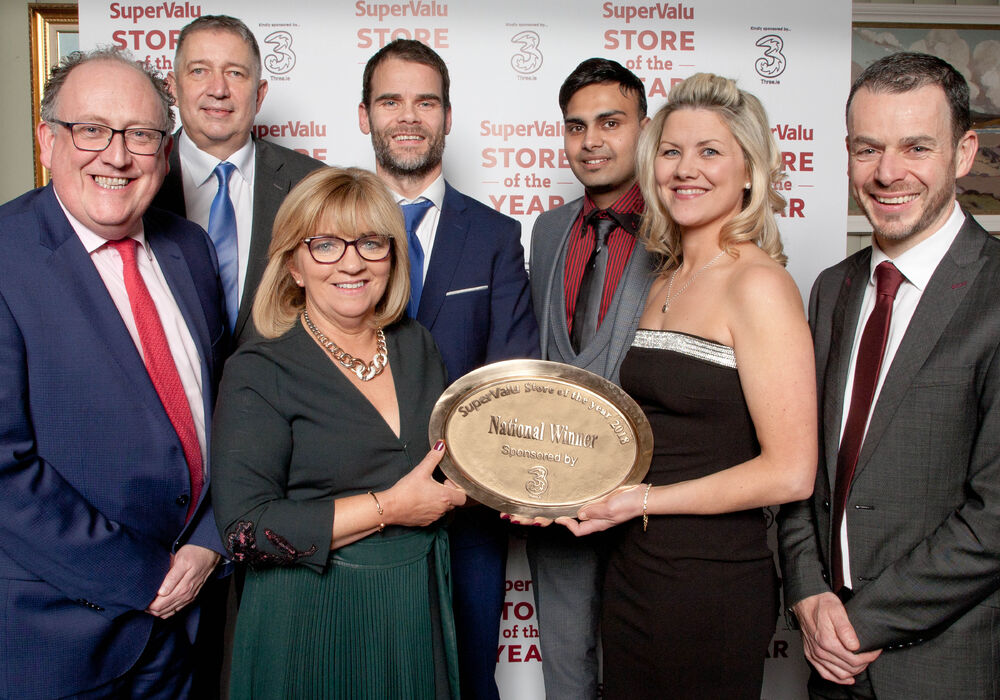 Nally's beat off stiff competition from other finalists to receive the much-coveted accolades at the SuperValu National Conference, which was held in the Great Southern Hotel, Killarney.
The team from Nally's SuperValu were presented with the awards by Martin Kelleher, SuperValu Managing Director, Michael Morgan, SuperValu Sales Director and JF Michel, Account Director of Three Business, the competition's sponsors.
Winning both titles is recognition of the exceptional standards that Nally's SuperValu in Trim has reached. The store beat competing outlets throughout the Republic, which were all assessed an independent competition adjudicator.
Mr Ellison's store audits focused on a range of areas, including product range and innovation; store presentation; fresh food offering, customer care and store quality and hygiene standards. Despite the high standards across the board among all finalists, Nally's SuperValu scored higher than all other stores nationwide in the overall and medium-sized categories.
Receiving both awards, store owner, Steven and Yvonne Nally paid tribute to the Nally's SuperValu team and acknowledged that their enthusiasm and dedication was pivotal to the store winning the awards.
"I would like to thank all of the hard-working, dedicated staff at Nally's SuperValu for this double victory. The store is lucky to have great employees that strive to deliver the best customer experience, every day. We are all focused on providing the absolute best service, product offering and value for our customers. I am honoured to accept these awards on behalf of the team - they recognise all of the hard work that they have put in to ensure that SuperValu Trim is a top-class store for our customers."
Speaking at the awards, Martin Kelleher, Managing Director, SuperValu congratulated SuperValu Trim, commenting, "This year, competition was very close across all categories and the fact that Nally's SuperValu won two awards, including the overall title, shows what a superb store it really is, thanks to its focus on fresh food, locally- sourced produce and creating a superb experience for the shopper."
SuperValu serves over 2.7 million customers every week and has 217 stores nationwide. Together with its retail partners, SuperValu employs approximately 14,500 colleagues, making it one of the State's largest private sector employers. 75% of everything on SuperValu's shelves is sourced in Ireland. SuperValu continues to source locally wherever possible which helps to sustain 30,000 jobs in the Irish economy.