Food Academy Scoops Award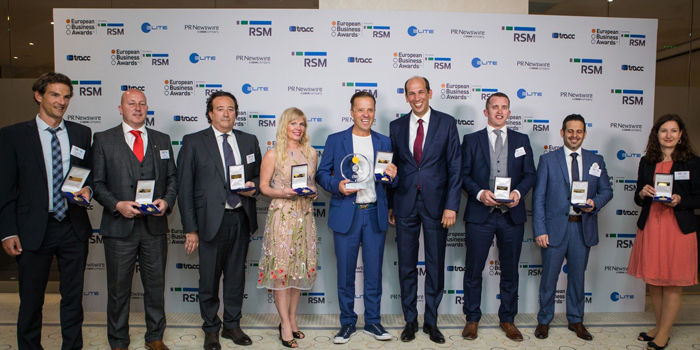 Wednesday 10th of May 2017; SuperValu, Ireland's leading Irish grocery retailer, has announced that its Food Academy programme has won a Ruban d'Honneur award for Innovation at the highly prestigious European Business Awards that took place in Dubrovnik. There was a stiff competition and out of 30,000 entries, ten companies across Europe were awarded a Ruban d'Honneur Award for Innovation including the SuperValu Food Academy programme which was commended by the panel of judges for being 'the most socially innovative initiatives in the competition' presenting strong community benefits. 
Through Food Academy, SuperValu has now helped over 700 small Irish food producers, supporting over 1,300 jobs. Successful food companies such as Dr Coys, Tipperary Kitchen and The Happy Pear, which began by supplying one SuperValu store, have grown their relationship with SuperValu to supply the entire network of 219 stores. 
Since 2007, the European Business Awards has been shining a light on the most innovative businesses on the continent by promoting success, innovation and ethics in the European business community. This highly regarded international competition attracts participants from all over Europe and winners of the awards are congratulated by an audience compromising heads of state, leading industrialists, entrepreneurs, business leaders, media owners and academics from across 30 European nations. 
SuperValu Food Academy entered an extensive 2,500-word submission for the European Award in June 2016 and in September 2016, the Food Academy programme was awarded the National Champion for Innovation. This was followed by the next phase which required public voting and a video submission. After a very competitive competition, the SuperValu Food Academy advanced to the final stage which required a 15-minute presentation followed by 20 minutes of Q&A. 
Commenting on the award, Kenneth O'Connor, SuperValu Food Academy Project Manager: "We're absolutely thrilled and honoured that we've gotten so far in such a prestigious European competition. We were up against some very serious businesses across Europe. This is a huge accolade to everyone involved in the Food Academy - Bord Bia, The Local Enterprise Offices, our SuperValu's and especially our small food producers who have produced some market leading innovative products. Their passion for their businesses along with SuperValu's partnership allows us to nurture their innovative thinking to guarantee their success."