Smith's SuperValu, Kinsale Wins Best SuperValu in Ireland Award
Smith's SuperValu, Kinsale Wins Best SuperValu in Ireland Award
Cork store named 'SuperValu Store of the Year 2017'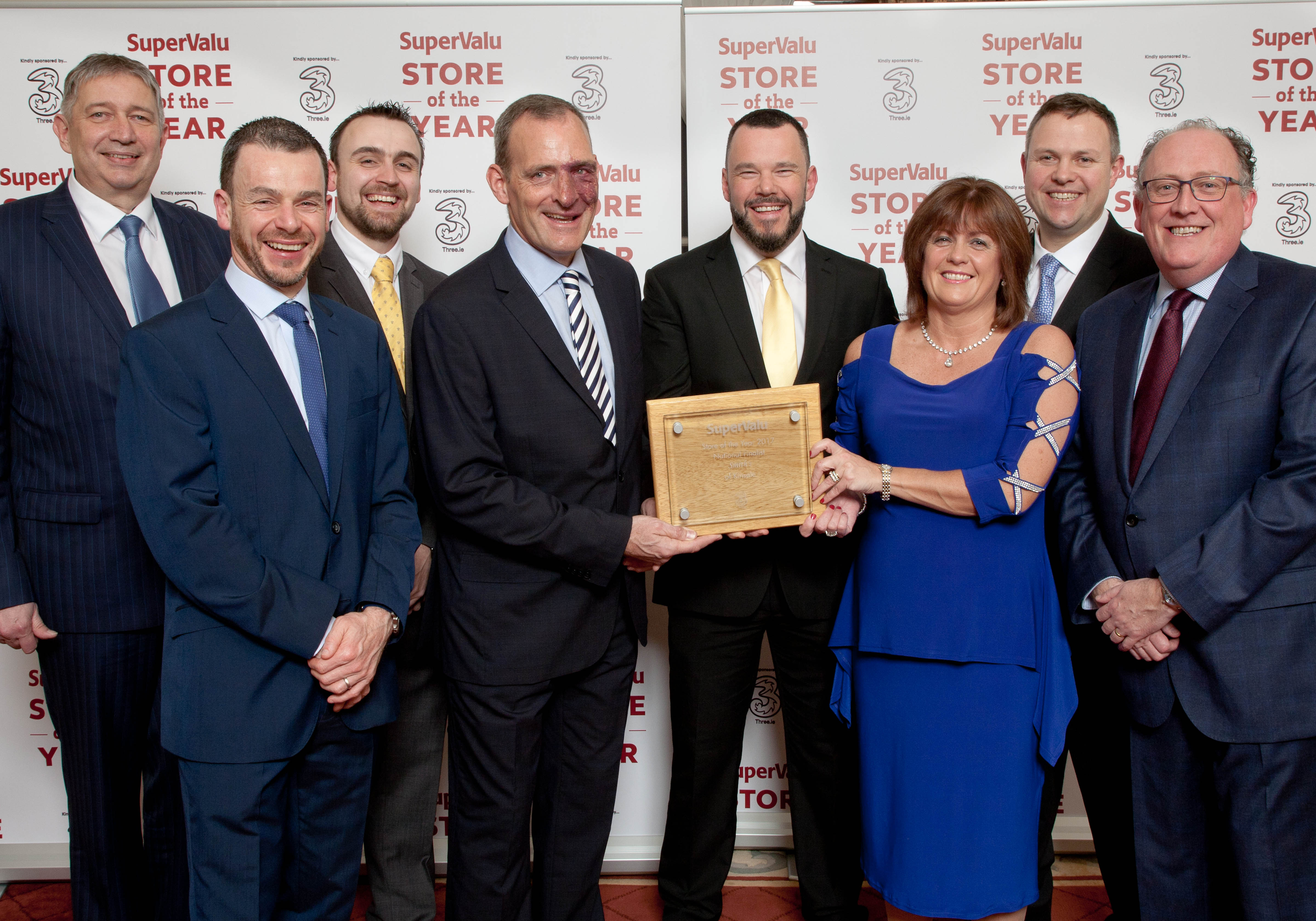 01st March 2017 –Smith's SuperValu in Kinsale has picked up the award for best SuperValu in Ireland, scooping the 'SuperValu Store of the Year' title for 2017.  The store beat off stiff competition from 11 other finalists to receive the much coveted accolade at the SuperValu National Conference which was held in the Malton Hotel, Killarney recently.   
The team from Smith's SuperValu were presented with their award by Martin Kelleher, SuperValu Managing Director, Michael Morgan, SuperValu Sales Director and JF Michel, Account Director of Three Business, competition sponsors.
Winning this title recognises the exceptional standards of the Smith's Kinsale store as SuperValu stores throughout the Republic of Ireland were assessed and adjudicated by independent completion judge, Paul Ellison to determine the most deserving winner.  The audits focused on product range and innovation, store presentation, fresh food offering, customer care and store quality and hygiene standards; with SuperValu Kinsale surpassing all SuperValu stores nationwide within these criteria.
On receipt of the award, store owner, Michael Smith, paid tribute to his team and acknowledged that their enthusiasm and constant dedication was pivotal to winning the award.  "I would particularly like to thank the team back in the shop; they are a super team of people who strive to deliver the best customer experience in store, every day. We are all focused on providing the absolute best service, product offering and value for our customers. Although the store is not yet three years old I invested in a complete redesign of the store last year and since then its popularity and success has exceeded our expectations. This award recognises and endorses the high level we have reached in transforming SuperValu Kinsale into a top-class store for our customers."
Speaking at the awards, Martin Kelleher, Managing Director, SuperValu congratulated SuperValu, Kinsale and said, "Once again this year we had a very strong group of finalists in the SuperValu Store of the Year competition.  However, Smith's SuperValu in Kinsale stood out, as it's a superb store with an impressive offering of fresh food supported by highly trained in-store experts demonstrating our true band ethos of Real Food, Real People."   
Big Winners:
- SuperValu Store of the Year 2017 - Smith's SuperValu, Kinsale, Co.Cork
- Large SuperValu Store of the Year - Smith's SuperValu, Kinsale, Co.Cork
- Medium SuperValu Store of the Year - Garvey's SuperValu, Tralee, Co. Kerry
- Small SuperValu Store of the Year - Harris's SuperValu, Baileborough, Co. Cavan
Finalists Shortlisted:
- Quish's SuperValu, Ballincollig, Co.Cork
- Garvey's SuperValu, Dingle, Co. Kerry
- Hurley's SuperValu, Midleton, Co.Cork 
- McInerney's SuperValu, Loughrea, Co. Galway   
- Nally's SuperValu, Trim, Co.Meath                    
- O'Mahony's SuperValu, Mallow, Co.Cork  
- O'Toole's SuperValu, Tuam, Co. Galway
- Ryan's SuperValu, Glanmire, Co.Cork
- Ryan's SuperValu, Kilmallock, Co.Limerick