Over €275,000 in energy grants for Barnardos
Barnardos centres nationwide will benefit on energy savings of €30k annually thanks to SuperValu and the SEAI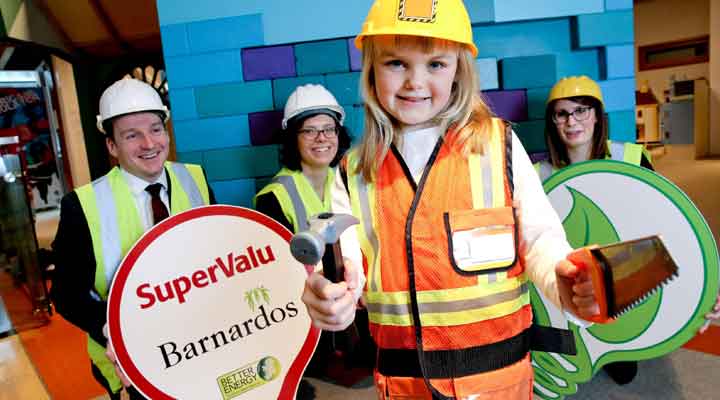 Ireland's largest children's charity, Barnardos, has received a significant donation and grant aid of €275,000 from SuperValu and the Sustainable Energy Authority of Ireland (SEAI), to improve the energy efficiency of its family care centres nationwide.
The funds have allowed 22 Barnardos Centres in Dublin, Cork, Limerick, Waterford, Westmeath, Offaly, Carlow and Tipperary to make much needed upgrades to boilers and heating controls, roof and cavity wall insulation, low energy lighting, and air to water heat pumps.
It is estimated that this will save Barnardos approximately €30,000 a year in energy costs, allowing more resources to be channelled directly into support services for vulnerable children and their families.
In addition, to further support awareness of energy efficiency in communities, the Glenasmole Community in Dublin, including St. Anne's GAA Club, has also received €82,000 worth of funding to upgrade their national school and community centre, and smart meters were installed in 10 houses in the area. 
The donations to Barnardos and Glenasmole Community were made by 19 SuperValu stores across the country who are themselves investing a combined €1.5 million to install energy efficient technologies at their own stores, which will reduce their energy consumption by up to 30%. 
Commenting on this exciting partnership, Barnardos CEO Fergus Finlay said, "We are extremely grateful to SuperValu and the SEAI for their support.  The savings we make on energy costs at our centres will be redirected into services and support our work with more than 11,300 children and their families in communities across Ireland." 
Martin Kelleher, Managing Director of SuperValu, said, "Barnardos provides essential services in the heart of local communities, which is at the centre of everything we strive to achieve at SuperValu. We have an ongoing commitment to create greener and vibrant local communities, and we hope that our contribution, and that of the SEAI, helps Barnardos make much needed savings to continue their work with vulnerable children and their families."
John Randles, Head of Delivery with SEAI said, "Energy efficiency is really important for Ireland to reduce expensive imports of fossil fuel and provide much needed employment. The collaboration between SuperValu and Barnardos is a fantastic example of community projects which involve people and organisations working together, having a real positive impact on people's lives, and the environment".
This campaign is delivered through SEAI's Better Energy Community programme and SuperValu's commitment to greener and vibrant local communities,
SuperValu is part of the Musgrave Group, Ireland's largest grocery and food distributor. With 223 stores throughout Ireland, SuperValu has served the people of Ireland for over 35 years and is a well-established landmark across Irish communities.