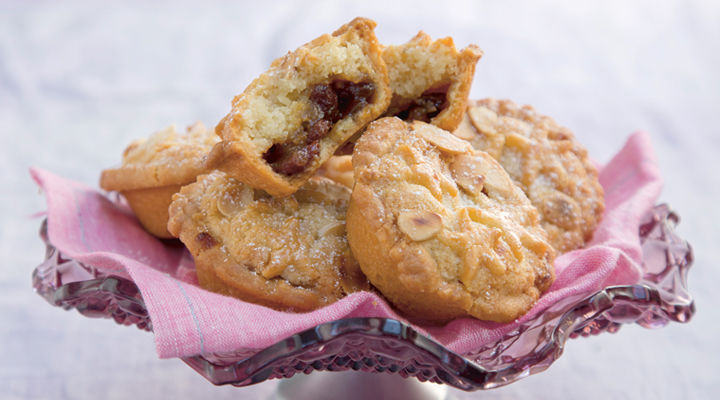 RECIPE OVERVIEW
I like to go all out with my mince pies at Christmas time with a deliciously short pastry and cake-like frangipane topping. If the frangipane is one step too far for you, then simply use the pastry as the pie tops (making 12 pies in this case). If you only have one 12-hole patty tin, simply store the pastry cut-outs for six pies covered on a parchment-lined tray in the fridge until the tin is available to use again.
Method
*This recipes makes 18.  
1. Preheat the oven to 180°C/ gas mark 4. Lightly butter 18 patty tin holes and set aside.
2. To make the pastry, blend the flour and butter together in a food processor to create fine crumbs. Add the icing sugar and pulse to combine, then add the egg to bring everything together into a smooth dough. Wrap in cling film and refrigerate for about 20 minutes.
3. Meanwhile, to make the frangipane, cream the butter and sugar together in a food mixer or by hand until light and fluffy. Stir in the ground almonds and all but 2 tablespoons of the beaten eggs until well combined.
4. Roll the pastry out on a lightly floured surface to about 3mm thick. Stamp out 18 discs using an 8cm round fluted cutter. Stamp out 18 medium and 36 tiny stars with a star cookie cutter set.
5. Press the discs into the greased patty tin holes. Spoon the mincemeat evenly between  them. Spoon 1 tablespoon of the frangipane on top of each one, spreading it level and to the edge. Arrange one medium and two tiny pastry stars on top of each one, pressing them in lightly. Brush the stars with the reserved beaten egg and scatter over the flaked almonds.
6. Bake for 20 to 25 minutes, until the frangipane is puffed up, golden and cooked through. Leave in the tins for a few minutes before removing. Dust with the icing sugar and serve warm with brandy butter, whipped cream or custard.
TIP: These can be assembled in the tins up to two days in advance and kept covered in the fridge until ready to bake just before serving. 
To make this less calorific, omit the frangipane layer and top the mincemeat with the pastry stars only.
Be the first to add a review.