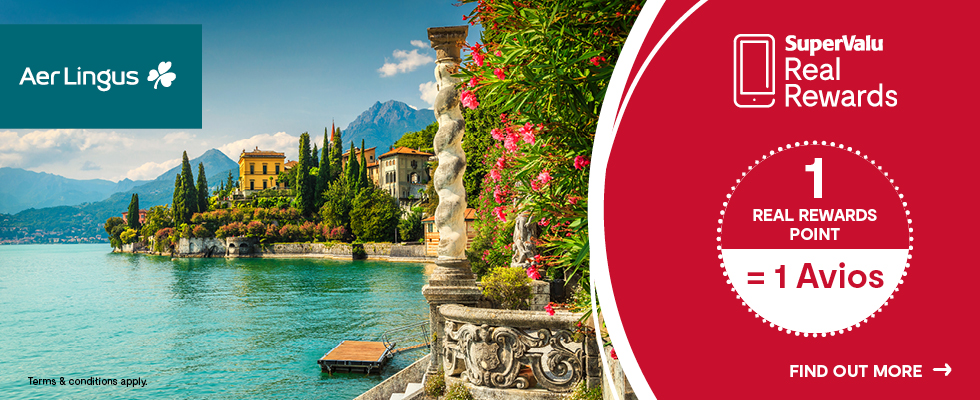 Convert your Real Rewards points in to Avios

Through Real Rewards and AerClub, the loyalty programme of Aer Lingus, you can convert your Real Rewards points and Money Back vouchers into Avios.
And Don't Forget...
The more Real Rewards points you convert, the closer you'll get to exciting travel rewards. 
Avios don't expire as long as you collect or spend at least one Avios point every 36 months, so you have the flexibility to use them when it works for you. Using Pay with Avios the next time you're booking a holiday on AerLingus.com or via the Aer Lingus app, use your Avios to get money off the cost of your flight.
To participate, SuperValu customers must have a valid Real Rewards card and an AerClub account.
Standard Offer: AerClub members can convert Real Reward points to Avios at a rate of 1 Real Rewards point to 1 Avios. A valid AerClub membership number must be entered at the time of converting points. 
Minimum conversion is 50 Real Reward points.
Only 1 AerClub membership number can be linked to 1 Real Rewards account.
You can't collect Real Rewards points when you purchase Lotto and lottery tickets, phone top-up vouchers, call cards, GAA tickets, gift vouchers, postage stamps, savings stamps, tobacco products, medicines infant formula products and alcohol products from 11th January 2021. Other products and ranges may be excluded at any time. Minimum spend to qualify for points is €1.
Standard Avios will be credited to your account within 7 days.
This offer is subject to change or withdrawal. SuperValu terms and conditions apply.
Once Avios are credited to the members account they can't be converted back to Real Reward points or Money Back vouchers.

For missing Avios queries, please call 0818 220 088 or 01 9068881.

 
Avios are issued and redeemed in accordance with Avios terms and conditions, for further details please visit www.avios.com