5 Reasons Why You Need To Sign Up To SuperValu eShops Right Now
With the most sought-after shops often requiring a cross country hike from one to the other, it's becoming increasingly difficult to get what you need in one central location. However, thanks to SuperValu eShops, you now have a one-stop-shop to access all your favourite brands in a timely and seriously rewarding manner.
Whether it's tech, the latest fashion trends, or even booking your summer holiday, SuperValu eShops has the answer - and you can make huge savings in the process.
Here are five reasons why you need to sign up… Like, right now!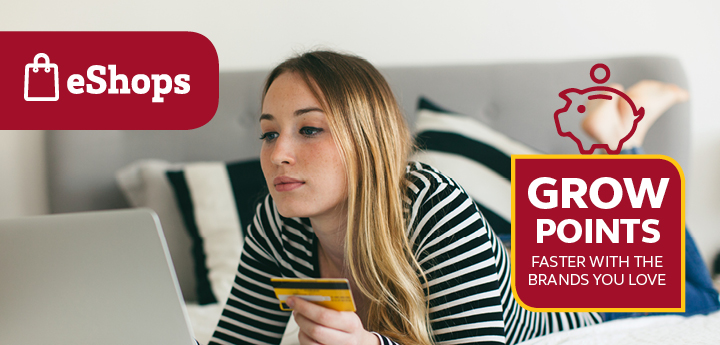 1. Because of the rewards... Real Rewards
Through SuperValu eShops, you can collect Real Rewards points on every single purchase you make with big brands from Debenhams to Dorothy Perkins and River Island. All you have to do is click through to their online store from SuperValu eShops - it's literally that easy!
Your purchase will be tracked and when your transaction has been validated, your Real Rewards points are confirmed within 35 days. The fastest way to grow your points, you'll see the benefits when your Real Rewards points are turned into Money Back vouchers three times a year, allowing you to redeem them against your grocery shopping instore and on line with SuperValu. Or if you fancy it, you can convert your Money Back vouchers and Real Rewards points to save with partners like Electric Ireland and eir.
So, why shop elsewhere and get nothing back when you can shop the latest deals AND get Real Rewards points through SuperValu eShops?
2. Big purchases = Huge rewards
The bigger splurges are where it starts to get really addictive. If you're potentially looking at a new MacBook, booking your next holiday, searching for a great deal on your car and home insurance, or simply buying next year's school books for the kids, you can earn massive rewards for these larger expenses by going through SuperValu eShops to make your online purchase.
3. Secret savings are the business
By using SuperValu eShops as your go-to point of access for all your online purchases, hundreds and potentially thousands of points will start to rack up on your Real Rewards statement. If you're a savvy shopper, it really is a no-brainer!
4. You can give your holiday a kicker
Make that holiday feeling last even longer. Featuring top travel brands like Booking.com, Expedia, Europcar, Hoppa, SuperValu Travel Insurance, TUI, and more - SuperValu eShops has everything you could possibly need to get your trip sorted from start to finish.
So, don't just spend your hard-earned cash to get that holiday locked down - make a conscious decision to book everything through SuperValu eShops and collect a heap of points as an added bonus.
5. Something for nothing is a hell of a deal
You've probably got the message on this one already but it's time to ram the point home...
Why shop elsewhere and get nothing back but the products that you've actually spent your money on when, with SuperValu eShops, you can spend the exact same cash and collect Real Rewards points in the process?
If it makes money, it makes sense. At SuperValu eShops, your money will give more back to you than anywhere else you could possibly spend it.
Click here to sign up to SuperValu eShops and get started!