Scan your Real Rewards card to collect Tefal Tokens
We are delighted to offer our Real Rewards members the exclusive opportunity to start collecting Tefal Tokens in-store and online at SuperValu. Use your Tokens to get a discount on your favourite item from the Tefal range, available in-store now.
How it works:
Scan your Real Rewards card or app every time you shop at SuperValu from 12th September until 18th December 2019 to receive 1 Tefal Token for every €1 you spend.
See how many Tefal Tokens you have collected on your receipt, online or your app. 
Once you have 50 tokens, choose your favourite Tefal item from the display in-store and get a discount of up to 60%.
Your Tokens need to be redeemed by 8th January 2020, as they are no longer valid after this date and will be cleared from your Real Reward Tokens account.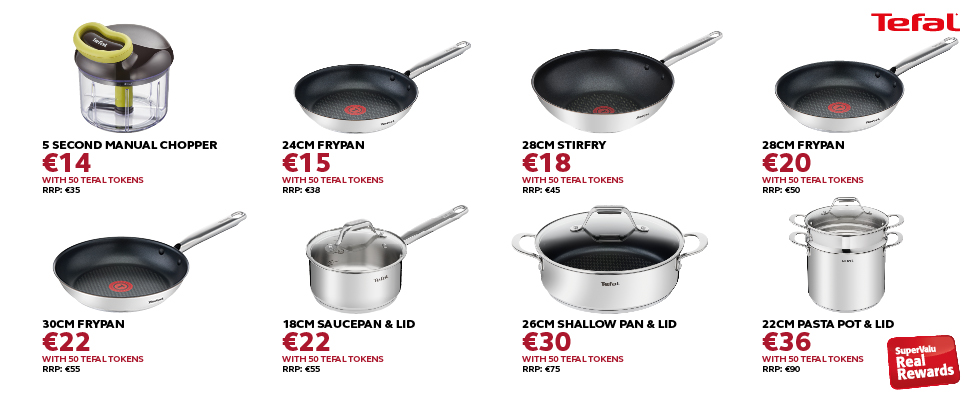 For each €1 you spend, in each participating SuperValu store, in any one transaction, you will receive 1 Tefal Token which will be stored on your Real Rewards loyalty card or app, once scanned at the checkout.
During 'Double Tokens' promotional periods, you will receive 2 Tefal Tokens for every €1 spent.
Collect 50 Tefal Tokens and choose an item from the Tefal Cook like a Pro at home products, with prices ranging from only €14 together with 50 Tefal Tokens.
Subject to availability of stock of the Tefal Cook like a Pro at home products in stores, there is no limit to the number of items you can collect for. 
Purchase of Lotto and Lottery tickets, phone top-up vouchers, call cards, gift vouchers, postage stamps, savings stamps, tobacco products, fuel, medicines and infant formula products are specifically excluded from spend calculations. 
Tefal Tokens can be collected between 12th September 2019 and 18th December 2019. 
Tefal Tokens can be redeemed between 12th September 2019 and 8th January 2020. 
Offer is available in participating stores only while stocks last. Stores reserve the right to amend, substitute or withdraw this offer in part or whole at any time during the promotional period. 
Your Tefal Tokens can only be redeemed once. Your Tefal Tokens cannot be redeemed for cash; they have no monetary value and can only be redeemed towards Tefal Cook like a Pro at home products. 
If you shop in more than one SuperValu store, you can Collect Tokens in all SuperValu stores, once you swipe your card or app. 
For more information contact us by calling 0818 22 00 88