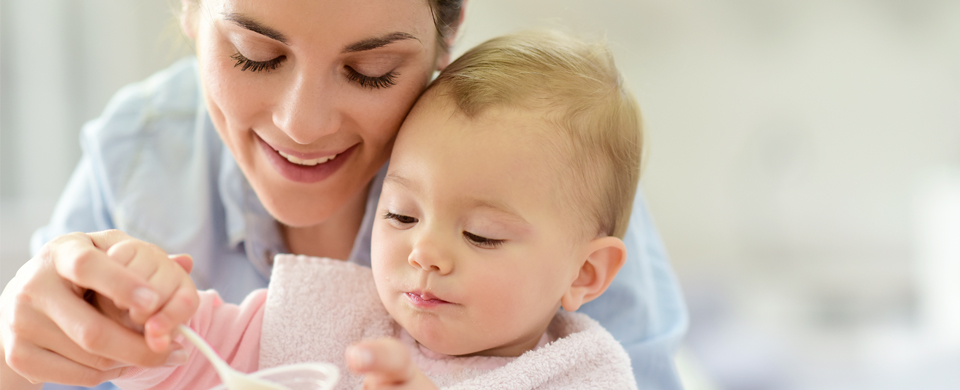 Moving onto family foods
I am a big believer that the sooner you start your baby on family foods the easier it will be for the family and the easier it will be to move onto a solid based diet from one years of age. From six months you can start to include your own family meals to your baby. There are a few exceptions but for the most part your baby can eat everything you are eating. Always read labels to make sure they are free or low in salt or sugar and I will outline below the levels that are safe for baby and toddler. 

Tips on including your baby in family meals
Prepare meals from Scratch – what I mean by this is not to include a paste or pre-made sauces that are high in salt and sugar. Make your own paste or sauce in advance and freeze it for when you need to prepare your family's meal.
Use recipes that can be blended easily – Starchy food like pasta or white potato does not blend very well. So only offer to your baby when they are at the stage where you are mashing the food.
Offer spices but hold back on the chilli – I'm all for spicing up your child's food but hold back on chilli as it can upset your baby's tummy.
Do not blend fish without first checking for bones – using your thumb and finger check that all bones are removed then add to the blender.
Reading labels
At the best of times, food labels can be very confusing. This breakdown of fats, salt and sugar make it clear as to appropriate levels in both foods and drinks for your family.
Food 

Drink

Salt
Salt is not only addictive, but is hard for our kidneys to handle in excessive amounts. Don't be fooled by food labels claiming to be low in sugar or fat as they can often be trying to mask high salt content.
Familiarise yourself with both salt and sodium limits for all ages so you can read labels like a pro.