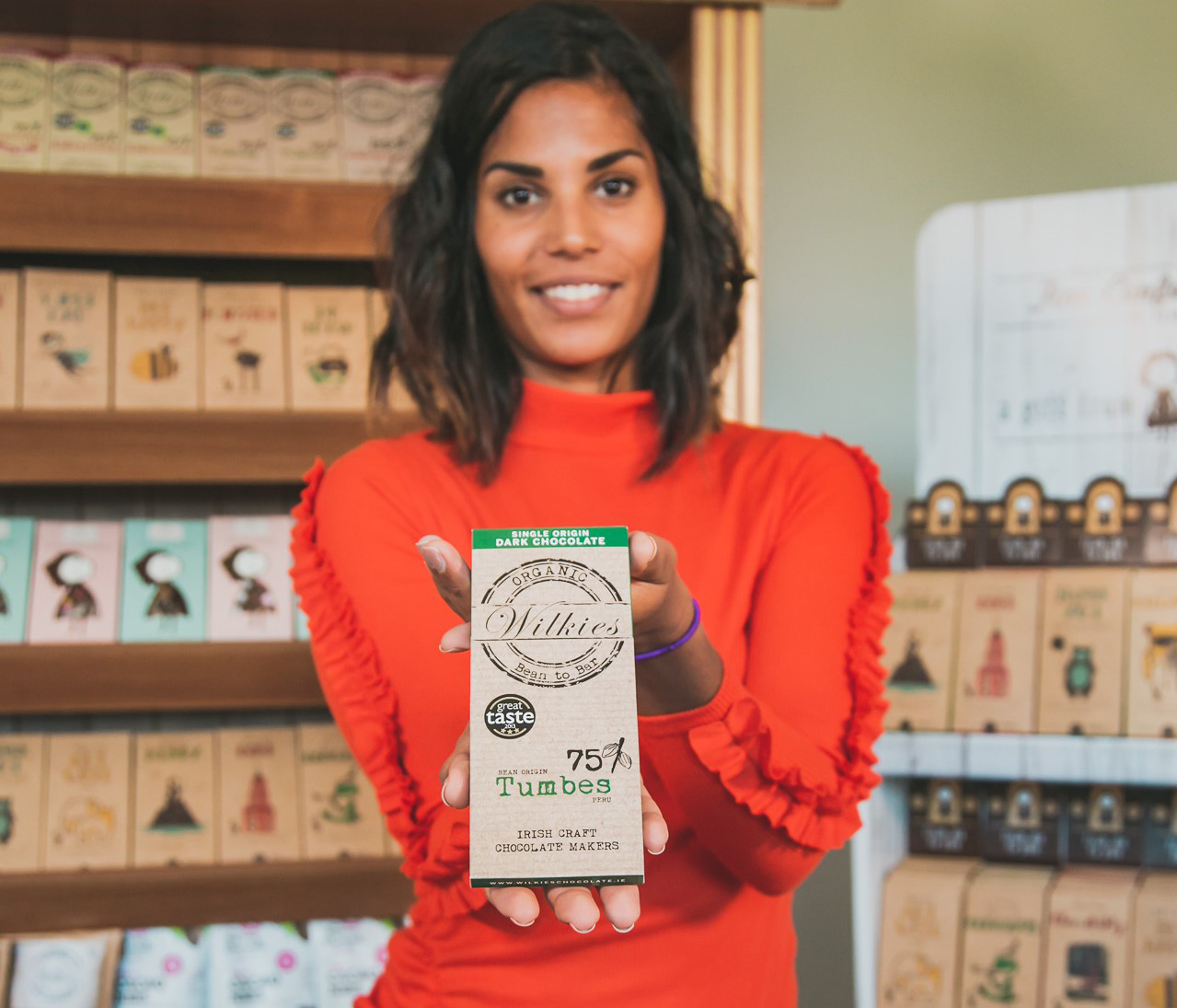 Wilkies Organic Bean to Bar Chocolate is a Multi Award Winning Producer of Small Batch, Single Origin, Dark Chocolate bars. Our range is organic, free from gluten, soy, dairy and nuts, and suitable for vegetarians and vegans. We use only 3 natural organic ingredients – cocoa beans, cocoa butter and cane sugar.
Our chocolate is produced by our dedicated team of chocolatiers, headed by Shana Wilkie, in Mallow, Cork. Shana started out in chocolate making due to her interest in all things food, natural curiosity of the origin of things, and care for the environment. This led her to Peru, where we source ethically farmed, single origin organic Criollo Cocoa Beans, a rare cocoa bean considered a delicacy worldwide.
The Criollo Bean is a very flavourful bean, with a distinct and complex taste, and a secondary fruity flavour which develops over time. The flavour of each batch of bars we craft will vary as the inherent flavour of the bean depends on the region, surrounding environment and year of harvesting. Understanding these changes in nature is essential to drawing out the best flavours in the creation process. Our hands-on approach in sorting, roasting, winnowing, grinding, and tempering enables us to cultivate the best flavours and create a chocolate experience like no other.
We offer a unique, exotic chocolate, that is handmade in Ireland as part of an Irish-run company who are committed to supporting local employment and sourcing local ingredients where possible across other faucets of our business. Our dedication to maintaining a quality product and harmonious workplace are paramount.
Our range of bars and chocolate powders are available nationwide in Supervalu and Centra stores, being part of the Food Academy has been of huge benefit to the brand to increase visibility across the country and have the spotlight on our chocolate on Social Media and through in store tastings.
You can visit us online at www.wilkieschocolate.ie , and follow us on Facebook and Instagram. We can be reached at info@wilkieschocolate.ie or call us on 022 64 108.