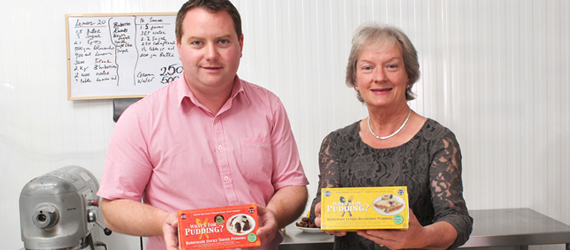 Royal County Puddings is based in Meath, the Royal County in Ireland's Ancient East. Since autumn 2014 Catriona and her son Rory Flaherty have being making delicious dessert puddings and sauces and they trade as What's for Pudding?
This business started out of Catriona's love of cooking and her conviction that the best quality ingredients, a little bit of extra time, and attention to detail make great products. What's for Pudding?,the most important dinnertime question to her mother from her childhood, provided an evocative brand and so it was to baking!
The award-winning puddings and sauces that Catriona makes herself by hand and is very proud of, include Sticky Toffee, Chocolate, and Lemon and Blueberry puddings with a Sticky Ginger Pudding ready to launch in the early autumn. The versatile sauces including Rum Butterscotch, Toffee and Chocolate make simple things special.
At Royal County Puddings all products are made with the exact same ingredients that Catriona has always used for family and friends and being hand-made they have the authentic taste and texture of home baking. This is attested by Blas Gold, Great Taste and Irish Quality Food Awards and numerous testimonials.
Catriona and Rory believe that Royal County Puddings are fit for kings and queens. Anxious to share them they were given an invaluable opportunity in the Food Academy programme to learn about the retail trade, to receive mentoring and crucially they also got their first retail listings in their local SuperValu's. Royal County Puddings contributes to service providers such as ingredient suppliers, packaging providers, designers and the providers of many other services which are necessary for a successful business.
Royal County Puddings is still finding its niche in the market. It looks forward to a continued association with the Food Academy and to build on the vital experience that this association has already provided.