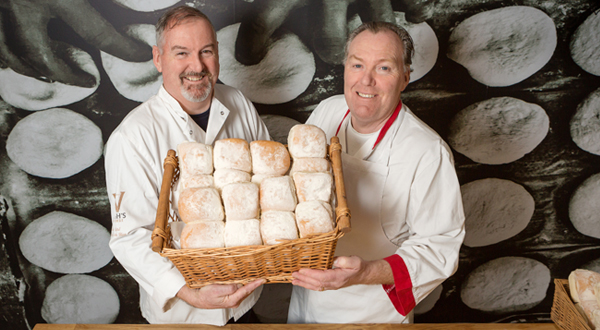 Walsh's Bakehouse is a third generation bakery, making the Waterford Blaa since 1921. The Blaa, a traditional soft white bread roll, dates back to the 1700's when the French Hugenots came to Waterford. One of the enterprising Hugenots set up a bakery in Waterford City in 1702 where the round bread rolls, now familiar as Blaas, were first made from leftover pieces of bread dough. It is thought the name "Blaa" is derived from the French word "blanc" meaning white.
Walsh's bakery was started by Patrick Walsh in 1921. His sons, Ritchie and Artie took over his bakery in Ballybricken, the heart and soul of Waterford commercial life for so many years. It was here that the current owners, Michael and Dermot Walsh, began to learn the skills of baking from their grandfather, uncles and their own father. Since 1985, they have continued the tradition of great skill, great service and great flavour. The Walsh family are passionate bakers and particularly proud of their Waterford Blaa which achieved PGI designation in 2013.
Michael and Dermot opened a new state of the art bakery in 2017. Designed to the highest industry standards, breads produced at this site include brioche, ciabatta, scones and rolls in addition to the Waterford Blaa range. As giving back to the community has remained a priority for the brothers throughout the years, they were delighted to be able to create 7 new jobs in the area. The business also continues to support and donate blaas to local charities, sports clubs, resource centres and community groups.
Since joining the Supervalu Food Academy in 2018, Walsh's Bakehouse has been given great support as a business through mentoring, workshops and in-store promotions of our product. As proud promoters of local produce, Supervalu have played a key part in the widening popularity of the Waterford Blaa PGI.
Follow Walsh's Bakehouse on Facebook, Twitter and Instagram.