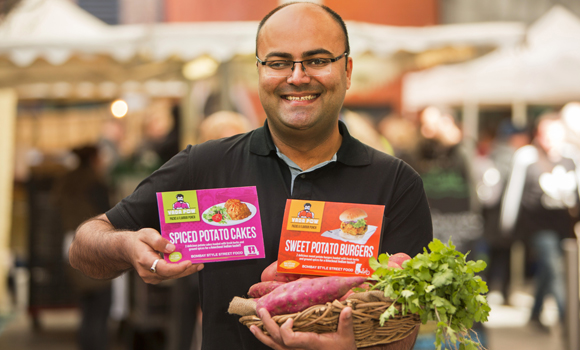 Our company Vada Pow is an Irish company established in Dublin on November 2015 and offers Vegetarian Bombay Style Street Food made with authentic ingredients from Ireland and India.
Our products are: Spiced Potato Cake & Sweet Potato Burger to be used as a part of main meal, lunch or snack. Our products which are tasty, convenient and authentic will be sold in retail and foodservice outlets.
We have a simple mission: "Food is to be good, not just in taste but for body and soul."
Naveen Bachani, founder of Vada Pow Ltd, is from Bhopal in India and a graduate of Shannon College of Hotel Management (2005). He has worked in the Hospitality, beverage and packaging industry and was selected as an HPSU (High Potential Start-up) for this project by Enterprise Ireland under the overseas entrepreneurship program.
My working life has been in the food & beverage industry. I am passionate about street food and my passion has brought me to Ireland from India to offer Bombay style street food. SuperValu has an amazing program to support small food producer.
My company has benefitted from their support and got a big chance to share my passion in the retail food market. Our company aim to grow organically in the food business market and become a sustainable operation and to generate employment directly and indirectly. At the end I would like to thank SuperValu for their initiative and support.