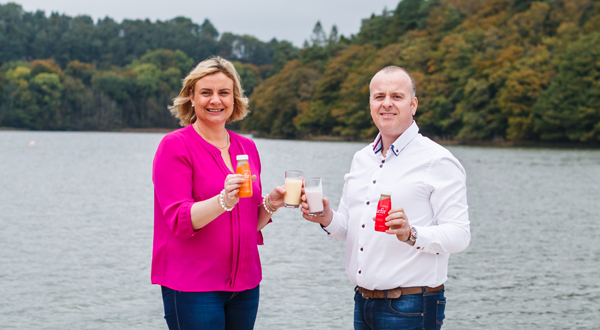 Uflourish is a family business set up by husband and wife team Jerome and Margaret Forde based in Innishannon, Co. Cork.
Having suffered from gut health issues, Margaret began researching natural ways to help her improve her gut health. She discovered this so called 'miracle drink' called Kefir, a 2,000-year-old bio-live drink originating from the Casucas Mountains which is consumed daily throughout Eastern Europe, Russia, Asia, the US and Canada. Kefir is often referred to as the superior cousin of yoghurt, or the champagne of milk.
After many trials and errors, Margaret and Jerome developed their own Kefir fruit smoothies which they now consume with their young family daily.
On request, they started to make smoothies for family and friends and from the overwhelming feedback they got the idea of bringing the smoothies to the marketplace was born. With support from Enterprise Ireland, their Local Enterprise Office and Teagasc Moorepark Co. Cork, Jerome and Margaret have now developed there Kefir fruit smoothies for you to enjoy. 
Uflourish Kefir bio – live smoothies contain 12 strains of beneficial bacteria, are a source of protein, are naturally packed with essential vitamins and minerals, and are free from artificial colours, flavours and preservatives.
We are so excited to introduce our refreshing miracle drinks for consumers to enjoy and share the health benefits that their family have benefited since Kefir has become part of their daily diet. So, go on join our family and love yourself from the inside out with our delicious Uflourish Kefir Smoothies!!