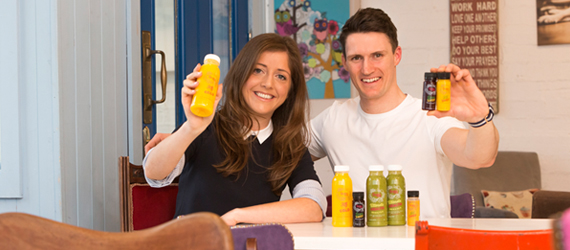 Stephen and Jenny opened The Lo-cal Kitchen Health Food Cafe in January 2014. Their background is actually in the construction industry and they have a design company, InArc Design. They noticed a gap in the Dublin food scene as that's where many of their design projects took place. Both very interested in health and fitness, this led to Jenny studying nutrition as they both worked to develop the idea for The Lo-cal Kitchen over a period of around 18months.
Their customers enjoyed an average of 260 juices per week from the single location café and they didn't see a slow-down in the retailer's desire to grow their Health Food category, this gave them the basis to launch The Lo-cal Juicing Company as a retail offering under the already growing brand, The Lo-cal Kitchen.
Steve took part in the Supervalu Food academy in 2015, which was an invaluable learning experience for any small food producer aiming for the Retail Industry. It was when Steve joined Yelp! on a trip to San Fran as part of their 'Small Biz Advisory Council' that the trend for juice shots was realised and they decided that they would be the first to introduce Juice Shots to the Irish market in the form of their potent duo, the Flu Shot and Liver Shot. Along with The Lo-cal Kitchen Juice Shots, they are bringing their two most popular cold press juices to the shelves; The Ultimate Health Booster & Kill the Cold.