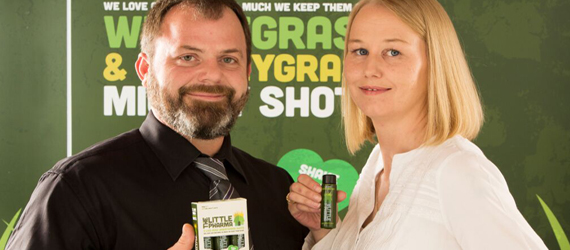 In March 2014, Darren opened The Hydro Club – initially it was to be a hydroponic/horticultural supply store, but quickly developed into the production of fresh Barley & Wheat Grass. Having found natural remedies a much more effective treatment than "Big Pharma" medication for a slipped disc & trapped sciatic nerve, Darren & Amanda started to educate themselves further on the subject. They found Wheat Grass & Barley Grass juice to be just two of the most all-round natural foods. As they found it quite difficult to find a consistent supply, they started growing their own.
When delving further into this area we found that a lot of consumers could not source a consistent supply & most wanted a more convenient product than having to juice the grasses themselves. This sparked the idea to produce The Little Pharma product range. With not having much background in the retail food section we heard about the "Food Academy" programme and thankfully, jumped on board.We located a food unit in Ballymount, Dublin and erected our vertical, indoor, urban, hydroponic farm. 
The Food academy programme has helped us in so many ways and not just by putting our products on the shelves of SuperValu Stores. There were so many elements in getting to that stage that we weren't aware of and we had so much support and knowledge through every step of the process. The different modules of the programme were so relevant to us and our business. I would highly recommend anyone in the first stages of starting a food business to take this programme.
And now we are stocked in SuperValu stores. We also believe our products are full of natural healthy benefits and are helping our customers in many ways.