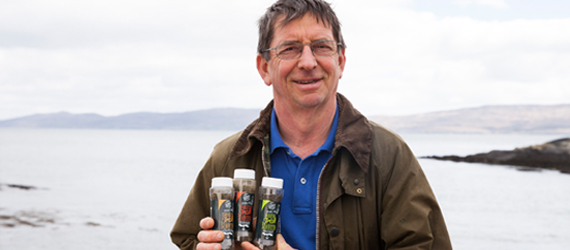 The Laughing Oyster Seaweed Company was established on Bere Island, Co. Cork in 2015 after its owner, David Andrews, paid a visit to California and witnessed how much seaweed was included in the human diet there.
As a grower of seaweed on Bere Island, David decided to find out whether there was a market in Ireland for a dried seaweed seasoning. An initial idea was put to the Supervalu Food Academy and they took him and his idea on as a prospective business. The result was a range of dried seaweeds in jars with a sprinkler lid that enables the user to dispense the seaweed like a dried herb. Each jar has a handy neck tag showing how the seaweed can be used and suggesting recipes with dried seaweed in them. This ranges from simply using it as a healthy substitute for salt to incorporating it into stews, salads and soups.
There are three different varieties to choose from: dried, toasted and a smoked seaweed seasoning. Each imparts a different taste quality to your food. Experimentation is the way to approach using these products!
The seaweed seasoning business was refined and branded and the final product is what you now see in several Supervalus in the West cork region. The effect of having Supervalu from the very beginning of development ensured that costly time was saved from making mistakes and errors that were picked up by the Food Academy team and put right. The branding of the seaweed products and the general guidance was invaluable. The Laughing Oyster now provides jobs on Bere Island and further afield.
The Laughing Oyster Seaweed Company sees a bright future ahead and, teamed with Supervalu, is looking to expand the range and area that it is available in.