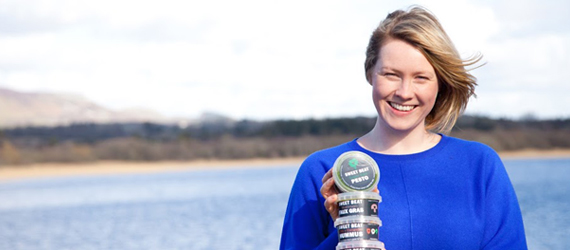 With a passion for travel and food, Carolanne Rushe returned home to County Sligo in Spring 2014 and began selling her plant-based products at the Strandhill People's Market on the beach front, along the Wild Atlantic Way.
After spending six years travelling throughout her twenties, and a brief trip home to complete the Ballymaloe Cookery School certificate in cooking, Carolanne returned to Ireland with years of global inspiration from time spent living in South Africa, Australia, Italy and the Middle East. Passionate about food that makes you feel good, she developed her plant-based products at farmers' markets in South Africa before returning to Ireland.
Sourcing quality local ingredients where possible, Carolanne uses a myriad of herbs, spices and flavours to deliver a range of exciting new products which are vegan, plant-based and mostly gluten free.
Using two years of trading at Farmer's Markets at home and abroad, Carolanne discovered through market research and product testing what was in demand; more healthy and fulfilling food.
Rushe's plant-based products at the market were so popular that she took the brave next step and opened the doors to her own café, Sweet Beat in April 2015. Located on the Garavogue River in the heart of Sligo Town, the café has a thriving lunchtime trade offering fresh salads, fermented drinks, and daily specials.
After a year of running the café, Carolanne decided it was time to move to retail and responded to the local enterprise office's call for the Food Academy programme, an initiative of SuperValu.
Throughout the Food Academy, we have attending workshops, meeting shop managers and researching the market, Carolanne has accrued an incredible wealth of information from the LEO mentors and fellow Food Academy producers. Working with Sweet Beat's own team of marketers, designers and recipe testers, Carolanne has developed a range of successful plant-based dips suitable for vegans, vegetarians, lactose intolerant, gluten intolerant and those who are looking for a delicious and incredibly healthy range of dips.
Overall, it's a very exciting programme to be part of and has allowed Carolanne and the Sweet Beat team to deliver a new product to the Irish market.