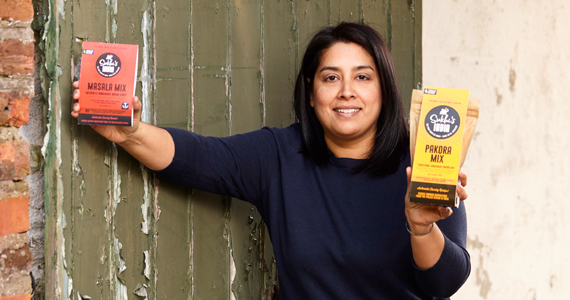 Sukhis India, first started under the name of Sukhi's Masala.  In December 2016 I began market testing my products and officially launched at the end of June 2017.  It was my intentions to bring to market recipes that have been in our family for generations.  My mother was born in India, Punjab before she came over to the UK in the 60's.  Growing up, meal times were so important in our family and mum would create amazing Indian food from basic rations. Cooking Indian food shouldn't be completed, my recipes come from a time when there were no fridges or electric cookers.  women would make good honest wholesome food using simple techniques and ingredients.  I wanted to bring back that simplicity through my products and allow people to create delicious Indian food at home with confidence. 
Taking part in the FoodAcademy allowed me to gain knowledge and experience that has proven invaluable in taking my business to the next level.  I learnt so much about the logistics and the decision-making process which is so necessary to get your product ready for the shelves.   I also decided to change the name to Sukhi's India, this would allow me to bring out a wider range of new product. I am working on creating dry Indian dessert and bread mixes.   
Supervalu has a strong community ethos, working with local business to bring customers the best of local produce. This is something I would like to echo through my working practice by supporting and working in partnership with local businesses. 
Going to trail has given me the stepping stone to really drive my business forward, to reach the wider market and make my business a great success. 
My goal is to create jobs locally, I received so much support from my local community and beyond, it would be great to give back.