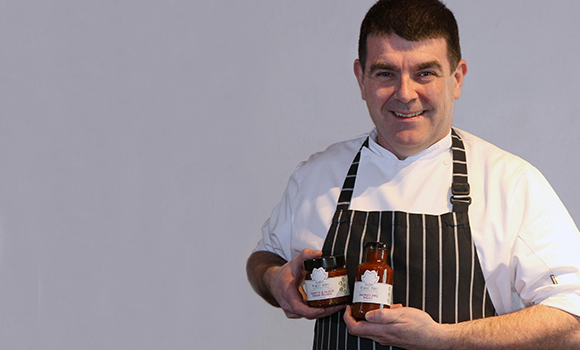 My name is Val O'Kelly and I live with my partner in a 150-year-old gate lodge in Co. Monaghan. Born and raised in the family home 'Fraoċ Bán' in Kildare town, I started my career as a chef over 35 years ago. With inspiration from my mother, I started on a culinary journey that has taken me to nearly all four corners of the world, bar one! My journey has led me to some exotic and some not so exotic places - such as the island of Bermuda, Shanghai-China, Riyadh-Saudi Arabia, Cairo-Egypt, Amsterdam-The Netherlands, London-England, and Abergavenny-Wales.
After working with some highly creative and talented chefs, I returned home around 15 years ago full of culinary knowledge and bursting with ideas. I continued my journey working in many four- and five-star hotels around the country, where I learnt lots, taught loads, and enjoyed creating great food in between!
The story of 'Subh Fraoċ Bán' (White Heather Preserves) began a few years back; I became tired of using bulk-produced, synthetic sauces that lacked provenance and goodness. Tomatoes play an important part in our culinary repertoire, and our glasshouses are in abundance with these fruits throughout the summer. I wondered how I could preserve these staple fruits all year round. So, I drew on my skills to develop a range of tomato-based sauces and relishes, brimming with natural goodness and fresh flavours, that I would be proud to use in my restaurants.
Since moving to Monaghan last year, I decided to make a small food business manufacturing these hand-crafted artisan sauces and relishes under the name 'Subh Fraoċ Bán'. This brought me on the Food Academy journey in conjunction with Supervalu. They have helped me bring my business to fruition, no pun intended! Through strong mentoring and training, this journey is now delivering my unique range of condiment sauces and relishes to the shelves in your local Supervalu stores, for you to purchase and enjoy.