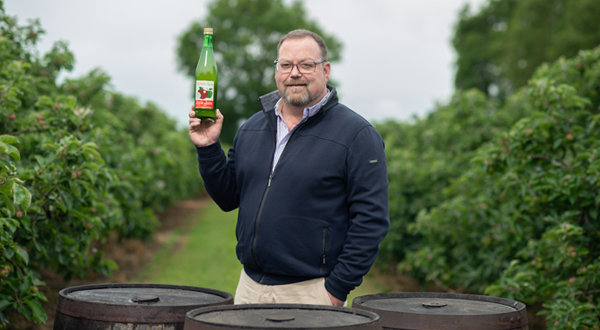 Dan Kelly's Cider is named after our Great Grandfather who drove a train on the Dublin – Belfast line which passes through our 200 acre family farm in Drogheda.
In 1962 my parents came from Co.Armagh to buy this farm and we have been specializing in growing apples here at Boyne Grove Fruit Farm ever since. We produce twenty different varieties in one of the largest and most up to date orchards in the country.
Our farm manager has seen four generations of The McNeece family work on this farm over the years - my Grandfather, Father, my kids and myself. Not bad considering that whilst we have a tradition of apple growing in Co.Armagh, we have only been growing apples here in Co.Meath for 57 years!
Every year we open this beautiful orchard for our Charity Apple Blossom Day. Visitors get a chance to see millions of flowers, take tractor and trailer rides and listen to the history of the farm. We give talks on what it is to grow apples, make juice, cider and vinegar. Over the years these open days have raised well over €10,000 for our two chosen local charities. We are regular sponsors of our local GAA club, Rugby club and local schools.
Our ciders, juices and vinegars contain only natural ingredients. Wild yeasts ferment the cider and vinegar. No sugar is added to any of our drinks.
The Food Academy has given us crucial information in how to bring our product to market. We aim to be successful at trial stage and hope to be considered for further listings in the future. As a sign of our confidence we have decided on further investment in our farm.