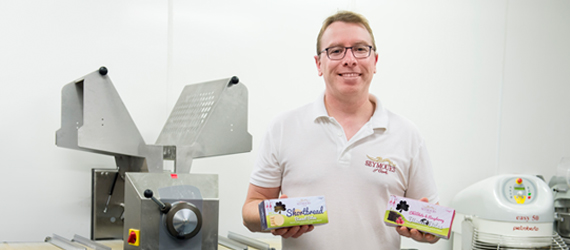 Seymours Biscuits began in 2006 on the family farm kitchen table and today operates from its purpose built bakery in Bandon, West Cork. We hand-cut each biscuit made from as much locally sourced ingredients, producing a range of sweet and savoury biscuits for the Irish market as well as to export customers. The use of fresh Irish creamery butter gives our biscuits their most distinctive flavour, ideal as an accompaniment to tea and coffee.
From the beginning, we have worked with local SuperValu stores in West Cork. As a small bakery, we are gradually increasing retail availability as we grow organically. Being part of SuperValu's Food Academy makes it possible for us to progress with the introduction of new varieties such as our innovative Dark Chocolate & Raspberry Biscuit Bites. The support and networking within the Food Academy programme has been invaluable and gives small food producers market reach in the formative years of their development.
Seymours Biscuits is very much a community business from the sourcing of ingredients and materials locally to offering employment and sponsorship of local campaigns. We actively engage with nearby schools and host student visits regularly, encouraging the awareness of Irish food culture and the importance of environmental sustainability.