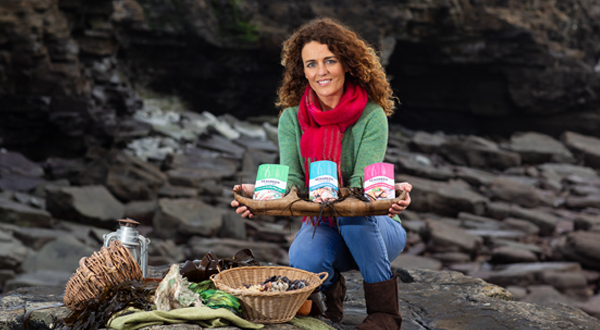 Seagreen Cuisine stemmed from two existing catering businesses run by Clare chef and owner Raychel O'Keeffe that were established since 2007. Raychel has over 20 years of practical cooking experience, and formal chef training from GMIT and other universities. She also is a specialist in Public Relations and Event Management and offers a one stop shop service for food catering, event management and entertainment. She claims much of her inspiration and natural style of cooking comes from her travels and she has a strong desire for experimentation in the kitchen. Raychel is passionate about wild food ingredients and using different kinds of seaweed from the wild Atlantic way in her food innovation.
Seagreen Cuisine uses seaweeds as a core ingredient in their products. "Ireland has pristine sea waters where seaweeds grow wild, it is a sustainable plant-based protein substitute with an abundance of health benefits including Vitamin A, B, C, and K, sea minerals, fibre ad Omegas. Harvesting seaweed was part of our heritage, and seaweeds were often used as home-remedies to cure ailments naturally." These nutritious dry batter mixes come in two flavours and contain superfoods with 5 kinds of seaweed and unlike other batter flour mixes, the flour used is gluten free, grain free and nut free and provides vitamin K. Seagreen Cuisine also produces a healthy dry superfood mix that makes homemade tortilla wraps, pancakes or tortilla chips. Seagreen Cuisine always use ingredients that give back on health benefits and are suitable for every kind of diet.
I look upon SuperValu as a unified liaison for my business and a company that strongly supports Irish food producers.It's a relationship that will bring mutual benefits whilst engaging with their fishmongers or butchers we can work in a unified manner to enhance sales on both ends. Their quality produce they have in-store matches my own and enables me to showcase my food products and Seagreen cuisine brand to their existing customers and encourages new customers to try new Irish made foods.
I believe in sharing my knowledge of seaweeds and in the kitchen with a future culinary team giving opportunity to young trainees so we can all share common goals. One of these goals is to keep developing foods that give something back to the consumer in their health benefits. Raychel has a connection to the Irish Charity Ray of Sunshine in Kenya which her family has been involved in and gives some of her proceeds to this charity.