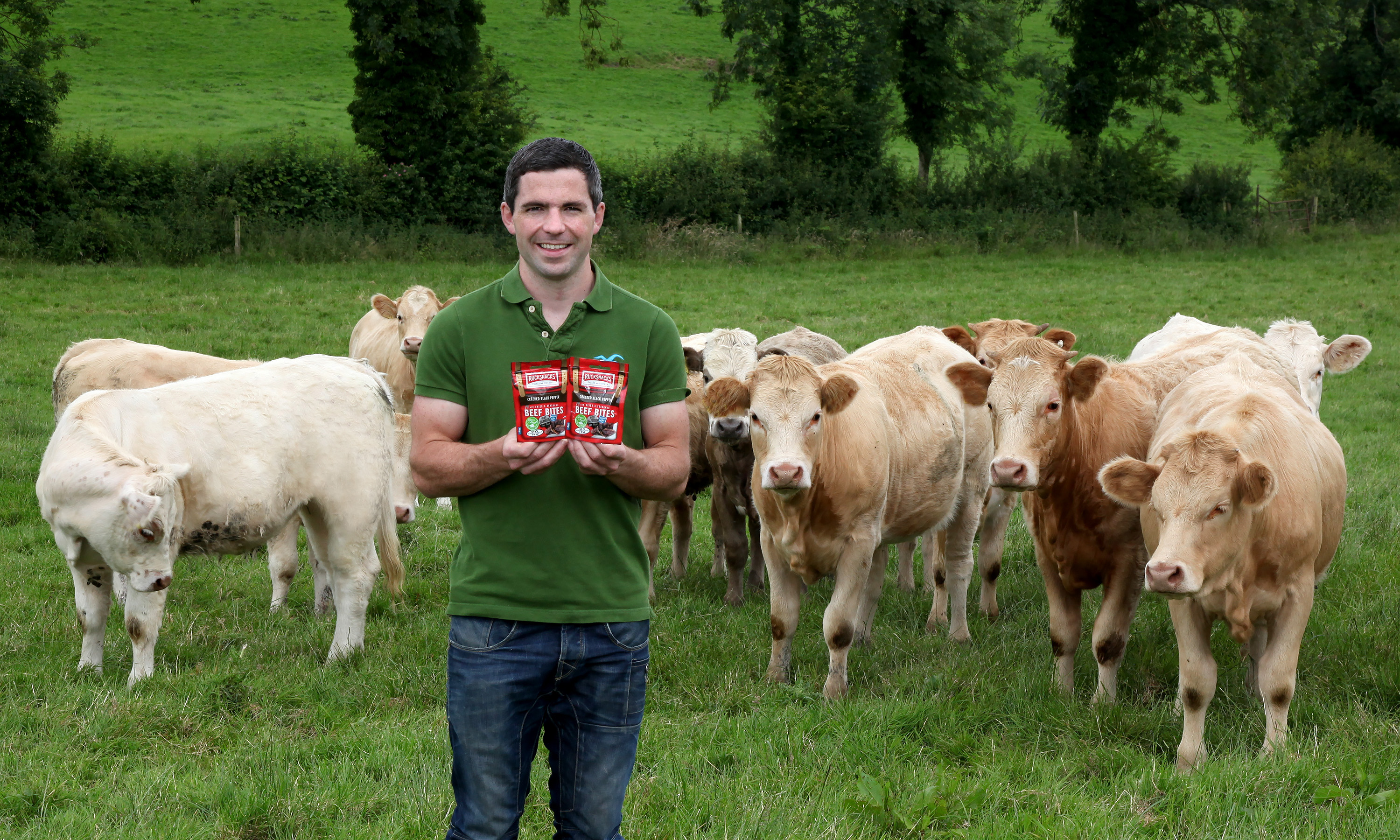 Colm Connolly, a fifth generation farmer from Clones, Co Monaghan, is founder of Rucksnacks, an award winning company.
Rucksnacks are new, ready to eat 100% Irish beef snacks, great tasting and healthy with only natural ingredients and no added sugar.
Having embarked on the trip of a lifetime, Colm returned to Ireland in 2015. Colm was struck by the popularity of beef snacks, however they lacked taste and were full of artificial flavours and preservatives. Frustrated by the lack of healthy and convenient snacks, he was inspired to blend his travel experience & farming heritage to create his own healthy snack range using natural dried beef infused with subtle flavours. 
"Travelling was an amazing experience but I always knew I'd come home to the farm and live in Ireland, I am passionate about farming and immensely proud to continue our family farming tradition. I am very much into fitness and health. So I was really frustrated on my return to Ireland to find a lack of healthy, convenient snacks. That's when I got the idea for Rucksnacks - a grass-fed beef jerky snack with only 89 calories per serving. With no added sugar, no gluten and no allergens - it is quality Irish food that ticks a lot of health boxes as a lean protein snack."
Having won the prestigious "Best Young Entrepreneur" and "New Idea" in County Monaghan in 2015, Colm was able to accelerate the development of Rucksnacks.
Rucksnacks successfully launching in July 2016 with huge demand for our healthy snacks. Fans of Rucksnacks include; County Monaghan Footballer Fintan Kelly and professional soccer players Jonathan Douglas and Mark Connolly.
SuperValu and the Food Academy have been invaluable in the development of Rucksnacks. During the programme, we attended expert training sessions, gained invaluable advice, gained understanding of the retail sector and developed our business significantly. We are now more confident in our business model and completely focused on delivering the best for our customers through our relationship with SuperValu. Securing a trial in Supervalu is a huge boost to us and SuperValu Food Academy programme enables us to provide our healthy snacks to customers who love quality Irish local produce. 
SuperValu is a great fit for Rucksnacks because it has a reputation for supporting home-grown, quality Irish produce. Like SuperValu, Rucksnacks is firmly rooted in its community, with Colm helping train kids in local sports clubs and we support chosen charities every year through food donations.
The success of Rucksnacks will help secure the future of our family farm, ensuring we continue our tradition.  We already have two full time employees, with one part time with further employment planned as we continue to grow.