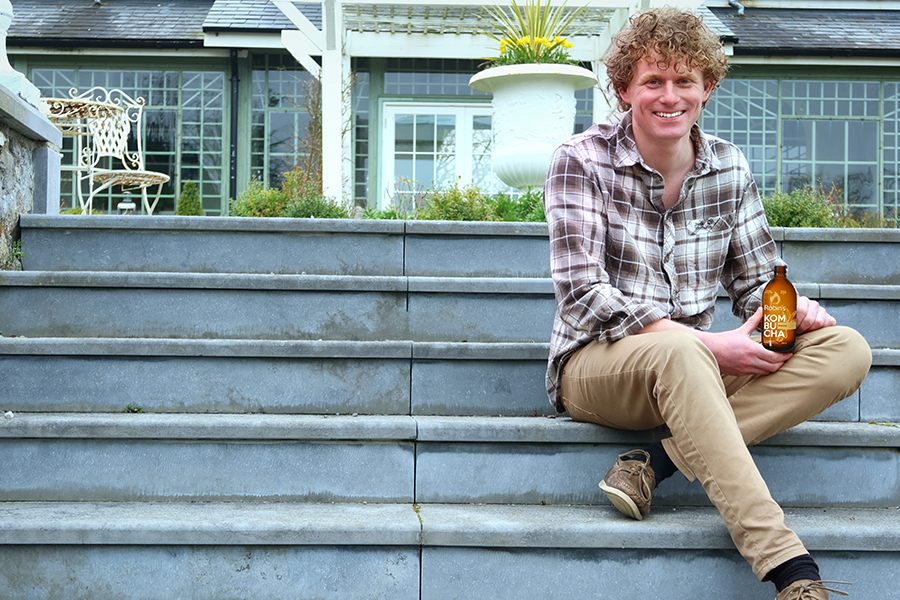 Hi there, I'm Robin, and I make Kombucha or 'Booch' as its nicknamed by its millions of fans! Kombucha is an ancient, fermented tea originating in Northeast China, around 220 B.C. Hailed for its healing properties, Kombucha has stood the test of time as a functional yet refreshing sparkling drink.
Brewing has been in my family for generations & combined with my family ethos of 'the food you eat is the most powerful & safest medicine' it put a fire in my soul to find & produce beverages that would add value to the lives of those I love. Although I grew up on a working, organic farm I've always gravitated to brewing & harnessing the most authentic techniques used by my forefathers, building on the delicacy of the only using the finest organic raw ingredients and adding complex floral and fruity flavours to my drinks.
Once I discovered what Kombucha could do, I was hooked! Experimenting with inherited brewing equipment passed down through the generations of my fathers' family in the Black Forest, and inspired by equipment that stemmed a Brewery business that still stands today dating back as far as the 1800's! With history, knowledge & determination on my side I left my engineering career & embarked on a whole new journey into the world of fermentation.
Now, after years of immersing myself within the world of Kombucha, I have perfected my craft & created a pure, premium Organic Kombucha that can be enjoyed on every occasion to nourish you from the inside out! I want my product to reach everyone who wishes to include this ancient & functional beverage as a part of their daily ritual for wellbeing.
My Kombucha is completely handmade & brewed the time-honoured way by fermenting for twenty one days to achieve optimum flavour & bacteria count. Made in small batches, using only the finest sourced organic ingredients, I really believe in leaving my ferments for just that little bit longer with hand-picked, loose-leaf fine teas, whole botanicals & fruits for a low sugar & highly nutritious brew!
SuperValu has helped me fine tune my business & has given me the support to learn & grow. They have given me a platform to bring awareness to my product & enlighten people on the benefits of Kombucha.
Every bottle of Robin's goes towards "1% for the Planet" as our way of contributing and giving back to the natural world, leaving a legacy our future generations would be proud of.