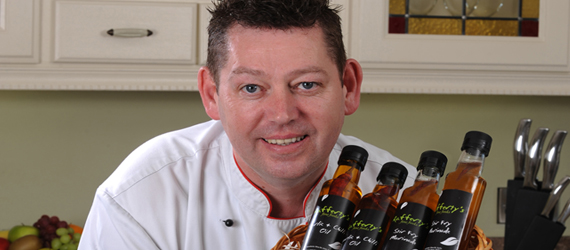 Rafferty's Fine Foods is an award winning, Irish artisan company that was established in 2013. It was created by Chef Declan Rafferty and is based in the seaside village of Blackrock, Co. Louth.
Being a chef, I was originally just making the products and using them as ingredients in the dishes I serve in my restaurant. The restaurant is based in a golf club which has seasonal business and as the winter months tend to be quieter, I've always produced products for the Christmas market e.g., puddings, relish, jam, chutney etc. When customer requests began to come in to purchase my other "menu only products", I saw a business opportunity and seized it. Initially, we sold the products in the restaurant, some local Christmas markets and a small number of local shops, butchers and food halls.  

In 2014, we completed the Food Academy Start programme. The Food Academy programme has provided us with a platform to develop a commercially viable business. It's been fantastic and has given us a solid foundation and enabled us to progress confidently onto retail shelves.  

The Food Academy Programme allows us to carry out tastings in stores. Being present in stores helps us maintain direct contact with the consumer and drives sales and which is vital to the existence of our small family business.