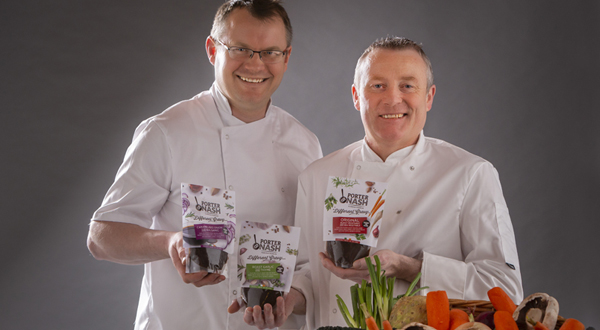 Porter & Nash is the brainchild of two professional chefs with decades of experience between us, who also happen to have young families.
We got talking one night about how difficult it is sometimes - even for chefs with fine dining experience - to put a tasty, nutritious meal together at home when you're under time pressure. The difference for us is that we both have a fully kitted-out kitchen behind us. But for normal people, the raw materials often just aren't there.
From researching the supermarket shelves we saw that what was missing were the kind of gravies that we naturally used in the kitchen to help turn a few ingredients into a tasty meal without much time or effort.
We also noticed the growing demand for vegetarian and vegan options that don't just deliver health benefits, but also bring the flavour. So, we set ourselves a challenge: to come up with a range of gravies to serve this broad audience of people who love their grub and who also may or may not be vegetarians/vegans.
Solving this puzzle might sound complicated but the solution was actually quite simple. We took fresh vegetables, grown in the Garden County of Wicklow. We combined them with fresh herbs and delicate spices. Then we added a very special ingredient: the finest seaweed from the West of Ireland, which adds amazing umami depth to the flavour of our gravies, as well as adding real health benefits. The gravies are then slow-cooked to ensure all the gorgeous ingredients come out in their own good time.
Having cracked this challenge, we are now ready to launch our introductory range of Porter & Nash 'Different Gravies' – in three flavour combinations. We look forward to expanding our range – and also our work-force – to cater to demand and make Porter & Nash a household name.