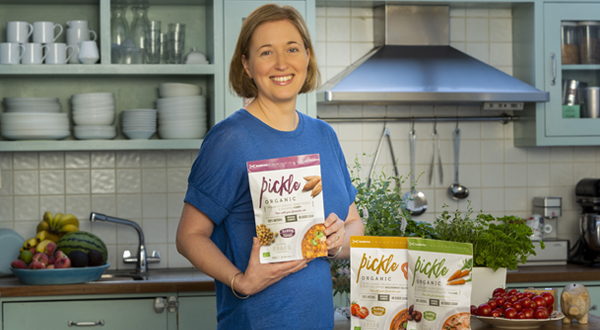 As a trained chef and mum of three, trying to juggle work and create more time for life midweek, I batch cook and freeze meals to prepare for the days when I'm in a pickle! The truth is, there are times when we all need easy, naturally delicious meals to hand.  Life is busy, and we put ourselves under huge pressure, but Pickle Organic offers a trusted shortcut to lessen the load.
In late 2017, I decided to see if I could meet a gap in the market and develop a range of tasty, frozen organic meals that would appeal to time poor parents interested in nutritious food for the whole family.  I researched the idea and received great feedback, discovering that older people are also looking for natural, portioned meals and particularly want to avoid the waste created by cooking from scratch for one or two.
I developed and tested recipes with family and friends focusing on those which lent themselves to slow cooking for depth of flavour and to freezing and microwaving for convenience. Ragus, tagines and curries were winners with the Irish palate young and old!
Organic is a must for me, as it offers completely natural and certified raw ingredients. What's not to like about avoiding pesticides, GMOs and antibiotics!  Irish organic lamb and beef is incredibly flavoursome, and we grow some of the best seasonal organic vegetables in the world. 
Next step was to find the right format to freeze the product in.  Again, lots of experimentation ensued but my desire to minimise waste and packaging led me towards the idea of multiple servings in a resealable pack.  This is ideal for families or for anyone with a smaller appetite needing a single portion at a time.
The SuperValu Food Academy Programme helped me get to grips with the financial, food safety and branding side of setting up a food business.  The mentoring and monthly group workshops were indispensable!  Meantime, a Postgraduate Certificate in Innovation, Entrepreneurship and Enterprise at UCD challenged me to think differently and to relentlessly focus on solving real consumer problems.
Finally, as plastic is no longer acceptable, Pickle Organic aims to be one of the first frozen food businesses to use compostable packaging.  Trials are under way and we aim to roll this out in 2019.