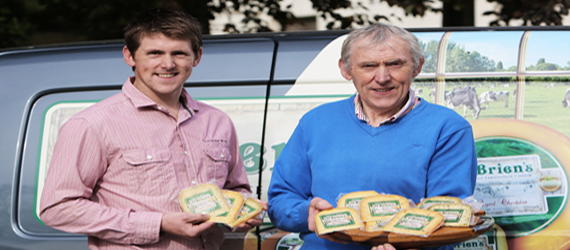 The O' Brien's dairy farm is located in Ballyhahill, Co Limerick. It is a family affair, with Jim and Marie and their son James all working together. Over the last 5 years Jim's goal has been to add value to their milk by diversifying into cheese production. His son James looks after the day to day running of the farm while Jim and Marie look after the cheese. A true artisan product; the milking parlour is less than 20 metres from the cheese factory. Milk at dawn and cheese at dusk.
The food academy has been of great benefit to the O' Brien's. From business plans, to labelling, marketing and of course having access to shops and being part of a nationwide programme encouraging shoppers to support Irish producers supplying quality products.
The O' Brien's hope to make farming sustainable for themselves and the next generation through diversification. Demand is steadily rising for their cheese which includes aged cheddar, cheddar with chives and cheddar with Mediterranean spices. They hope to take on more staff as they continue to expand.