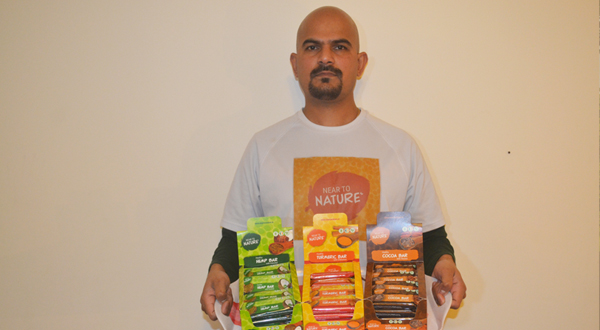 Lubdub Foods completed the Food Academy programme with SuperValu and the Limerick Enterprise Office in the summer of 2016. What emerged out of this very beneficial experience was the introduction of Health Bars made with natural ingredients and no added sugar in 5 flavours under the brand name N2N Near to Nature. This proved to be quite challenging in such a new and competitive sector – Health Bars – but they started to sell reasonably well and became available in over 100 stockists nationwide. In late 2017, Lubdub Foods decided to invest in more efficient production equipment, moved into bigger premises and re-branded just 3 of the original 5 flavours – Turmeric, Hemp and Cocoa - under the simpler brand name Near to Nature.        
But where did it all begin? Company Director Swamy Sannaveerappa is a Food Scientist. He and his wife Maheswari fell in love with Ireland when Swamy came here to do an interview for a job with the Limerick Institute of Technology (LIT) in 2009. He came straight from Sweden where he had just finished a PhD focusing on Anti-oxidants in Food. The job in LIT allowed Swamy to continue his research into a subject he was very passionate about.                                    
He then started up Lubdub Foods and created the Near to Nature health bars as a response to the rise in 'snacks' for runners and sports people that had many unusual ingredients in them. He wanted to use all his knowledge and the 10 years of research to make a food product that would be as near to nature as you could find on the market with a high nutrient count and something that could function in a more nutritious way for everyone not just athletes.              
More importantly Swamy wanted to make a plant based bar with no added sugar. Additionally, the bars are a natural source of vitamins and minerals and they are all gluten free.
Swamy loves being part of the Limerick food community and as a local business he is contributing by providing employment.