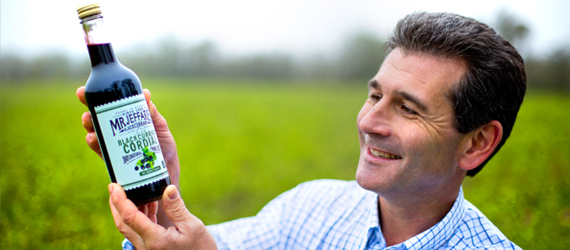 Mr Jeffares Blackcurrants
Blackcurrants are making waves in the food world these days. This is in part due to Ireland's only remaining Blackcurrant Farm, Ballykelly Farm based in Co. Wexford. Owned and run by Des Jeffares his company Mr Jeffares Blackcurrants launched two unique products to Ireland, Mr Jeffares Irish Blackcurrant Cordial and Individually Quick Frozen Irish Blackcurrants. Mr Jeffares Blackcurrants is the culmination of over 60 years of growing in Wexford and three generations of Blackcurrant Farmers.
Mr Jeffares Irish Blackcurrant Cordial is Ireland's only cold pressed pure blackcurrant juice with no added sugar and made from fruit from thei own farm. Almost three quarters of a kilo of Blackcurrants go into every bottle. The health benefits of these dark purple fruits makes Blackcurrants the Number 1 fruit for Vitamin C content, with research also showing assistance for memory loss and blood circulation as well as aiding muscle recovery.
Mr Jeffares Blackcurrants were the first fruit farm in Ireland to achieve Bord Bia's Origin Green sustainability certification. Since the launch of Mr Jeffares Irish Blackcurrant Cordial in April 2015, Mr Jeffares Blackcurrants have been proud members of the SuperValu Food Academy. The programme has been of enormous benefit to Des, as "it has acted as a major platform into the Irish Food Market."
Overall, the response has been overwhelmingly positive in regards to SuperValu.