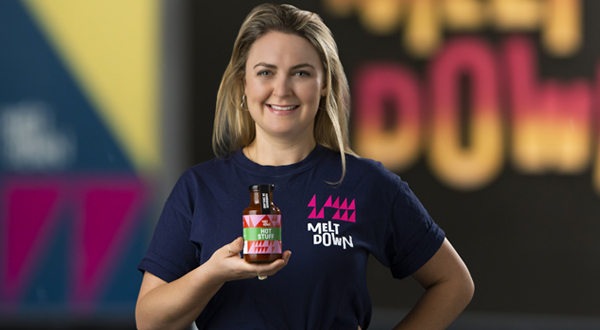 From Galway and the daughter of a Fisherman, Maeve has always had a keen interest in food, cooking and sustainability. Her first venture was 'The Tiny Teapot' in picturesque Cleggan (Connemara), which opened in the summer months from 2011 – 2013. Here Maeve served homemade cakes, with tea and coffee during the day and served up a provincial dinner in the summer evenings.
After this she completed the Total immersion Chef Program in GMIT to gain her qualification to be a chef. She has experience working as a pastry chef for Park House Hotel in Galway and then An Port Mor Restaurant in Westport.
Maeve then opened a well received Market Stall serving variations of Chilli in the Christmas Market 2014 in Stephen's Green, Dublin. After this she worked as a development chef in Freshways where she created many new sandwiches and acquired a wealth of knowledge about Irish eating habits.
Meltdown Café, a goal Maeve had been actively working on for 9 years, opened in April 2018. Initially as a 3 month pop up and then to its current location in Temple Bar. Maeve saw the opportunity to continue to grow her brand and business in the retail space, through the food academy. Starting out in November 2018 and now finally getting the finished product on shelf in September 2019.
Meltdown Hot Stuff is a Fruity Habanero Heaven from Cuisine Queen Maeve O'Malley. Utilizing simple ingredients in extraordinary ways, this not- too-hot-sauce focuses on flavor over fire, bringing fruity feels to the foreground. Perfectly paired with Cheese Toasties, Veg Roasties and everything in between.