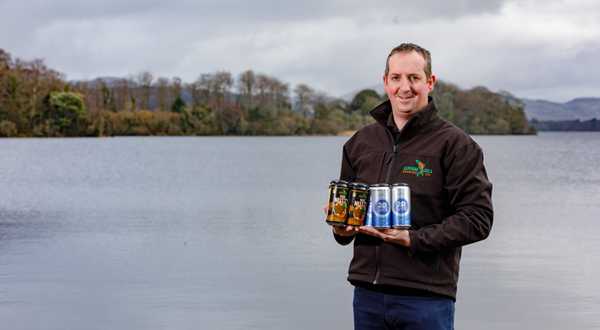 Founded in 2016 by James Ward, Lough Gill Brewing Company aims to restore the lost tradition of brewing to Sligo town, a small town that once hosted 5 breweries. The idea stemmed from an ever-growing passion for brewing delicious beer and a unique opportunity of various skill sets and business synergy. Lough Gill is an independently owned and family run craft brewery and is the first brewery to be based in Sligo town for over 100 years since the last one closed its doors in 1915 to become a bottling facility for Arthur Guinness.
Lough Gill Brewery brew a range of Ales, Stouts and Lagers and the food academy will list their Mac Nutty – Macadamia Nutty Brown Ale, Lost Armada – American Pale Ale, Cutback Indian Pale Ale and 20 Gills Lager. Their beers are available in a 440ml can which is consumer friendly as well as being a fully recyclable package. Lough Gill Brewery Beers have won awards at the World beer awards and the Dublin beer cup to name a few. Outside the local market their beers can be found in the UK, Northern Ireland, Russia and the US.
The growth of smaller niche breweries is one of the fastest emerging trends in the global beer industry. Beer lovers want to support businesses that align with their values and are having a positive impact on their local communities and our larger society. This has led to consumers moving away from mass produced beers to better quality locally produced beers. The Food Academy gives Lough Gill Brewery an opportunity to bring their range of beers to these consumers and to expand the business as the market sector grows.
SuperValu has helped me to get our brands into the hands of consumers who truly want to experience a local craft ale. By working with SuperValu we have been able to gain greater awareness of what Lough Gill Brewery is about and the styles of beers we produce. We look forward to what is ahead through working with the SuperValu group.
We are creating jobs locally through the manufacturing of all our beers here on site in Sligo. We also support many local charities events and want to play a role in the future development of Sligo.
Follow the Lough Gill Brewing Company on Facebook, Instagram and Twitter.