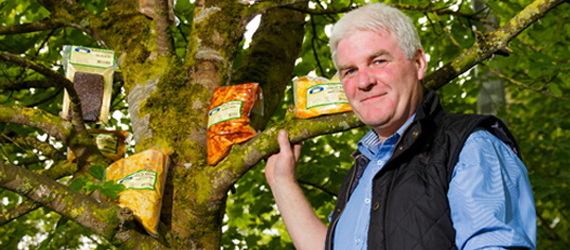 Born and bred out of four generations of butchers, Robert Tormey of Lisduff Fine Foods has sharpened his skills to create a pork range that is superbly crafted, bold in flavour and succulent to the slice.
Robert grew up in the craft butchery business, starting as an eager butcher's apprentice at only 12 years of age. In 2012, Robert established Lisduff Fine Foods to create premium marinated bacon joint combining exciting flavours with the undoubted quality of dry cured Irish bacon. Now with over 40 years of experience behind him, Robert is proud to present his own range of premium dry cured roast in bag marinated bacon joints and hand crafted puddings. 
Lisduff marinated bacon and hand crafted puddings are made with Robert's heart and heritage. All bacon is 100% Irish and dry cured on site in Nenagh. The puddings are hand mixed and hand crafted to Robert's own exciting standards. These gourmet pudding bites are made to an old family recipe; they have a unique, fine flavour and texture which makes them stand out from the crowd.
The Food Academy programme has been another important step in the Lisduff journey by providing an exciting platform to bring our hand crafted products to the wider market. The company hopes that the programme will be the launchpad to bring these quality products to the four corners of the island!