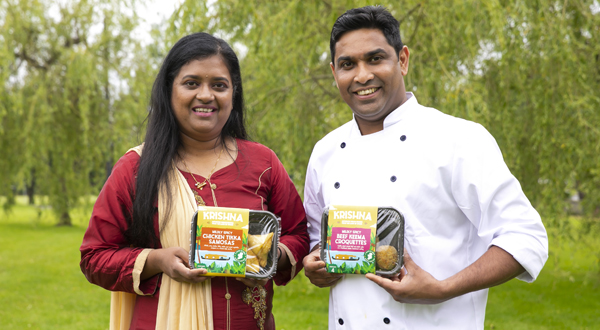 With four successful Indian restaurants around Wexford ( New Ross, Enniscorthy, Ballindaggin and Wexford Town)named The Holy Grail, Husband & Wife team, Shijo & Parvathi set up Krishna Foods in New ross, Wexford. The next step was to venture into retail markets. Our products are handmade from the restaurant kitchen with authentic traditional Kerala recipes. We were disappointed that Indian products available in retail markets are not always what they claim to be. We surveyed our customers on this and their answers prompted us to look into producing pre-packed products for the retail.
Shijo Bhaskaran, is a professional Chef with many years of experience in the hospitality sector, trained and worked in the five star hotel –The Taj Group of hotels. Parvathi Nair is a Quality Manager in the food industry also with many years of experience.
Without Supervalu and their Food Academy we would have been lost. They gave us the expertise in branding, marketing, packaging, labelling and pricing. All the information was overwhelming and we even had thoughts about leaving the project but our mentors helped us throughout the process in giving us clear instructions. We are extremely proud to say that we have been accepted to become part of the SuperValu Food Academy.