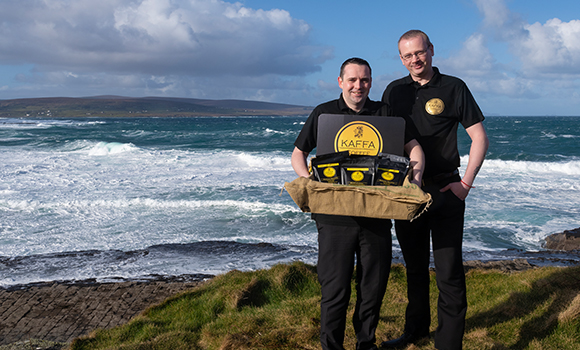 Working in the coffee industry for the past fifteen years as baristas and creating original coffee blends, we knew coffee was going in the wrong direction, most coffee shops serve coffee's with high amounts of sugars and flavours which are not healthy for consumers. Watching the high intake of these coffee products daily we decided to change the trend and offer consumers a healthier alternative that will promote health rather than damage it.
Nature is the answer, we believe in combining natural ingredients. Our coffee is ethically sourced from the best coffee regions in the World. We find the best natural ingredients to add to our coffee blends.
Kaffa Coffee Café is located near the idyllic Lough Conn overlooking the majestic Nephin Mountain on the grounds of the beautiful 1790s Enniscoe House where an abundance of natural ingredients is grown in the garden. Working around nature inspires us to create healthy and unique products.
Well Bean coffee provides a range of naturally healthier delicious tasting coffee blends with added daily benefits for consumers to drink at home or on the go, some of these benefits include, Omega 3, Omega 6, Magnesium, Fibre, Protein, Metabolism boosting Chlorogenic Acid and Antioxidants for skin care,
Our future goals are to keep creating new and unique great tasting healthy coffee products for health-conscious coffee consumers to enjoy.
Kaffa Coffee are delighted to partner with SuperValu to provide our range of Well Bean coffee products in SuperValu stores across the region, The SuperValu Food Academy has been an invaluable support to our business, we believe our brand will grow with SuperValu.
Our motto Espress yourself better.
Dedicated to presenting healthy coffee in a sophisticated natural innovative way.