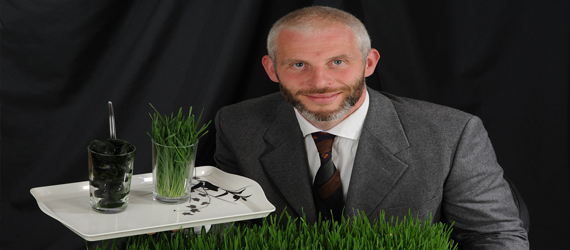 Irish Organic Wheatgrass ltd
We have been growing and selling wheatgrass for several years now.
We initially grew and juiced wheatgrass just for ourselves. Then our customers started asking for some of whatever was giving us our energy, and so the idea to produce and sell wheatgrass was born!
Following a talk by Bernadette Bohan in Killarney, the demand for wheatgrass in Kerry shot up. So we started to sell the fresh cut wheatgrass in our shop, "Manna Organic Store" in Tralee. However, not everyone has the time, or the strength to get up a half hour early to juice their own grass, and people started to ask us to juice it for them. Wheatgrass juice must be consumed fairly quickly after being juiced or it looses some of its nutritional value, so we started to look at options for preserving wheatgrass juice. After much research we realised that freezing is definitely the best way of keeping the maximum nutrients and health benefits of our wheatgrass.
Sweetgrass, Organic frozen wheatgrass shot's, are a very convenient way to consume wheatgrass. It can be bought in advance, several weeks worth at a time. It takes less than five minutes to defrost or 30 seconds to make a Sweetgrass Smoothie.
At Manna Organic Farm & Store, our objective with Sweetgrass is to bring all the benefits of wheatgrass to our customers in a convenient and enjoyable form, while maintaining it's maximum health promoting qualities. Our focus with Sweetgrass is to grow the most nutrient dense health enhancing, convenient wheatgrass possible.
Through the training and workshops, I have gained skills and knowledge that has helped me to promote and sell my Sweetgrass product. I now have a better understanding of what is required to sell into the Supervalu chain and large retail groups. The biggest obstacle before we started was our packaging. We had none. But thanks to the Food Academy we now have a great pack that presents our product well, sits well on the shelf and ticks all the legal and regulatory boxes.

By growing and selling Nutrient dense food's we are now employing more people in our business.
We are certified Organic growers and producers.