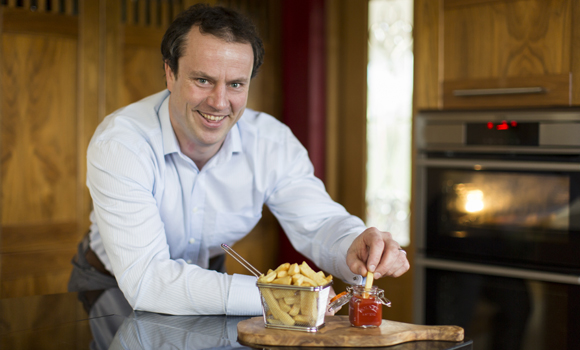 The Wall family have been farming for four generations in Whitegate Co. Cork and have been growing potatoes commercially since the 1980's. We have been selling fresh chips since 1995 to satisfy the Irish people's love affair with "The Chip". 
Everyone loves chips made from fresh hand cut potatoes whether they come from the chipper or are made at home. But until now you either had to go down to your local chipper or start by washing potatoes in the kitchen sink, either way there was a bit effort involved. Frozen chips offer some convenience but don't offer the same quality and that sense of nostalgia and tradition you get with proper chips. 
Being an engineer and part time farmer, Kieran Wall set about to solve this problem so that more people could enjoy Wall's fresh chips in a more convenient way without having to leave the house or spend an hour or so in the kitchen. With the help of an innovation voucher from Enterprise Ireland and some research by UCC, he developed a high quality, tasty, chilled chip product that you can cook in your oven in just 15 minutes which maintains the authentic taste of old style chipper chips. 
With the support and encouragement received from the South Cork LEO he enrolled in the Food Academy Programme in association with SuperValu and he hasn't looked back since. 
Let's hope this is just the start.