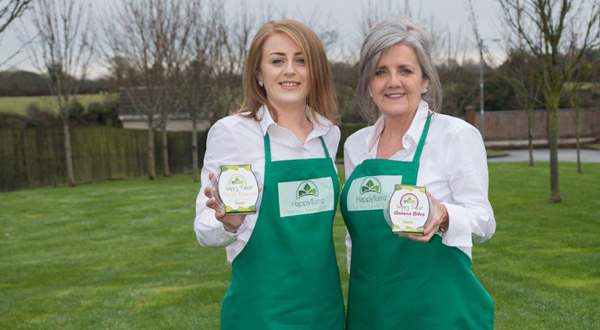 Welcome to Happy Tumz - "A place to let your tummy smile"
We are a wholefood plant based family business operating in the lovely town of Maynooth, Co Kildare. Originally from West Dublin, we relocated back to Maynooth in the autumn of 2017. This town is no stranger to us as we are the 5th & 6th generation of the Smyth clan who have deep roots in Kildare and can be traced back over 200years. Laura underwent a big lifestyle change in January 2017 and began her transition from the typical Irish diet to a whole food plant based lifestyle.
Having done so she discovered that there aren't many plant-based snacks available on the go. As a busy hair-stylist at the time she needed an energy boosting snack to keep her going on busy days.
Naturally creative she put her skills to use in the kitchen and Happy Tumz products were born. Family and friends tried them and loved them so the seed was planted to maybe take it further as if she struggled to transition, maybe others did too.
Through contacting the Local Enterprise Office in April 2018 with the idea of perhaps launching a food business. It was there she heard about the Food Start Workshops which led onto the Food Academy Programme which began in August 2018.
The Food Academy was facilitated by experts in the food industry with invaluable knowledge and guidance throughout. "I really enjoyed the Food Academy Programme and learned so much in the process. I will be eternally grateful for this opportunity in making my dream come true".
Trish aka the momma bear has been vegan that long she has come back in to fashion. As a busy Mum of six children, Trish always believed in hearty wholesome meals prepared from scratch at home. She believes that good food is the best medicine, when the children were small, they always baked with her, and this is where Laura developed her natural flair in the kitchen.
With Trish's business acumen, and their combined passion for good health and making people feel good, mother and daughter have joined forces to bring Happy Tumz to life with wholesome, nutritious nibbles to make your tummy smile.