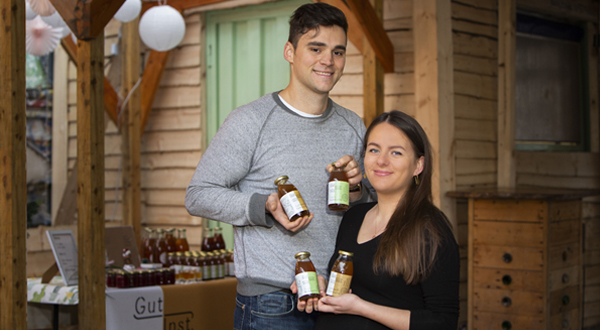 Gut instinct was created in March 2018 by Chef Andrew and Scientist Laura in Skerries, Co. Dublin.
Together, they always wanted to start a food venture and, with Andrew being a chef with experience in ferment-focused restaurants like Noma in Copenhagen, Laura a scientist, and both keen on healthy living, Gut Instinct was a no brainer.
They began fermenting a range of food and drinks in their home and quickly noticed the health benefits, as well as the interest from friends and family in their products. Launching with their best-known product, Kombucha is an alternative healthy lightly-fizzy drink, giving you all the gut-health benefits of a fermented product.  Gut Instinct Kombucha is a delicious low calorie, low sugar, double-fermented and always unpasteurized Kombucha. They are also launching the first-to-market Coffee Kombucha in Ireland and the U.K.
SuperValu has given us a fantastic opportunity to launch our unique products in Ireland. The Food Academy programme has encouraged us to work hard and bring to life what was just the beginning of an idea back in March 2018. We are looking forward to working with SuperValu and upholding the high standards of their business through our own production, delivery and outreach of our products.
Gut Instinct in engaged with the Skerries community through markets and local events such as the Skerries Wellness Fest. Through these events we get to promote gut health and educate others about the importance of looking after your digestive system through diet.
We are passionate about engaging with the local community and, through this, foster an ethos of getting to know local producers and business owners.